v
I had meant to share the story from my time next to the Twins bullpen last week in a Cup of Coffee but hadn't gotten a chance yet. Here are a couple of fun parts of the trip.
The herd and I arrived to the Twins/Indians game last week about an hour before first pitch. We left Buffalo around 7:30am for a 12:10 first pitch. The hope was that the Calf would get a little bit of sleep before the game during the 3.5 hour car trip as his usually nap time falls between 12:10pm and 3:00pm. Naturally, he finally fell asleep when we were about 30 minutes outside of Cleveland. This was not before he learned how to undue his car seat buckle though. Seriously, the calf is 18 months old. How did he figure out how these things work already? It took me about a week and a half before I figured how his car seat works. Anyway, onto the trip. I am going to share a couple of photos. Those who are friends with me on the internet may have seen some of these already but I will share again as I think they add to the story.
Believe it or not I haven't taken the Calf to see a Bisons game yet. For some reason I wanted his first game to be a Twins game. Thinking about it now it probably wasn't the best idea but he responded extremely well to the large crowd.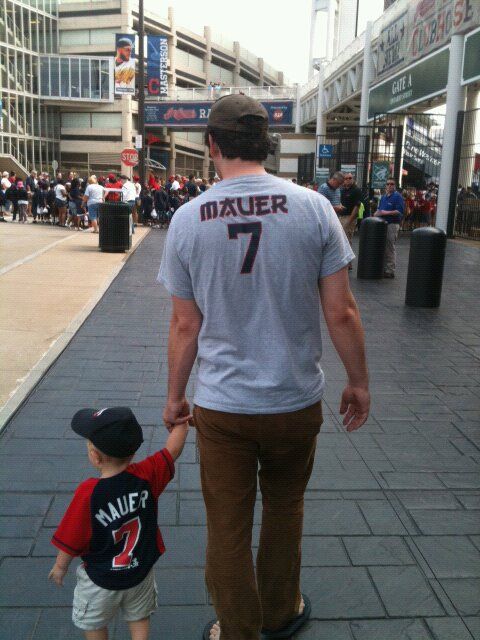 We made our way to our seats pretty quickly. I got seats directly next to the Twins bullpen in hopes of A) seeing some cool stuff in the bullpen and B) snagging a ball for the Calf from his first game. Shortly after getting to our seats we were greeted by the whole staff watching Duensing warm up. It made me hopefully for both of my goals of the day.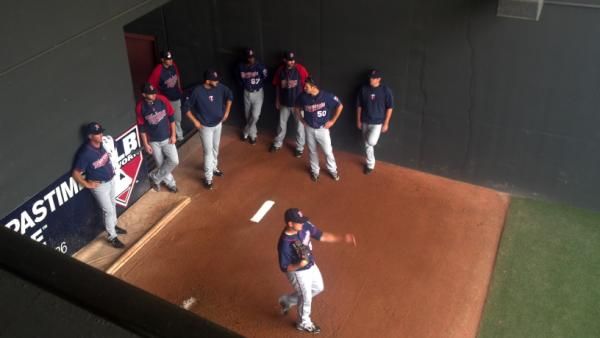 The Calf seemed pretty interested in what Duensing was going to have for the day.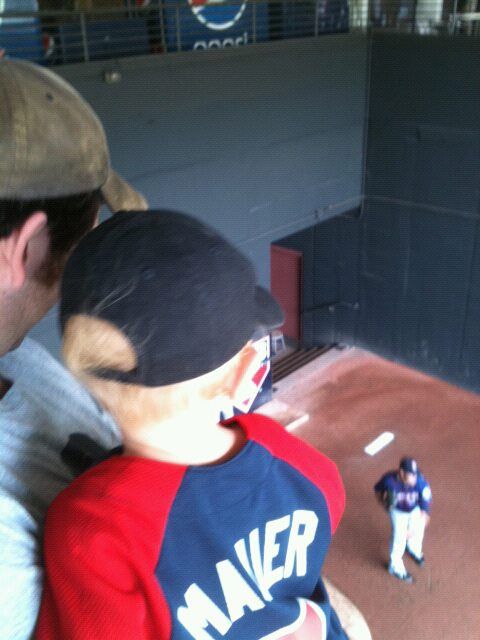 About 10 minutes before game time a man about my age came in with two young children, both under the age of four, and saw our family clad in TC caps. He greeted us, shared that he was a Twins fan and said that it was his goal to get a ball for each of his children as it was their first Twins game. I thought to myself not before I did, that was for sure.
As the game went on it was clear that this dude did not hate Joe Mauer (plus!!) but he was seriously interested in getting his kids a ball (minus). The last twenty minutes of his time spent at the game was asking Casy Fien and Rick Anderson for baseballs. After seeing how sad the whole situation was I decided I would never ask a player for a baseball for the rest of my life. I will wait for the Calf to figure out how to talk and have him do my dirty work for me.
As the game was going on the Calf was starting to get a little restless but I wanted to get as much of the game in as possible. Mrs. Buffalo was not as enthused about the idea as I was, as evidenced below.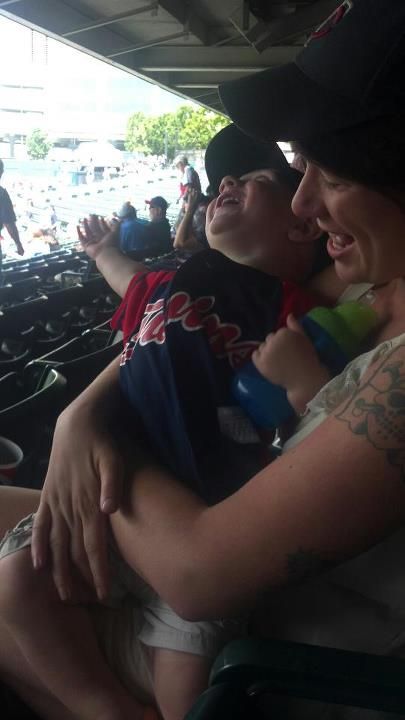 As the Twins were starting to let the game get away it was becoming clear that the Twins were going to need to call on their bullpen. In the minutes leading up to the call Jeff Manship and Casey Fien began hanging out in the pen. Fien started by throwing a ball against a brick wall and fielding it while Manship made fun of him for throwing a ball against the wall. Shortly after they were joined by Alex Burnett and Tyler Robertson. As Manship began to walk towards the back of the pen Fien whipped a ball against the wall that ricocheted off of the concrete and missed Manship by about 4 inches. Shaken up Manship looked to the stands, embarrassed, to see if anyone had noticed. He was greeted by me cracking up. He began to yell something to me that I couldn't really make out. I game him a shoulder shrug and said tried to say something clever. Since I don't remember what I said I imagine it was probably really smart. Manship then decided to pick up the baseball and throw it at Fien. This was followed by Burnett then whipping balls at Robertson. About six seconds later Rick Anderson put a stop to all of the fun and made Fien and Robertson warm up.
It was about this time that Nishi left a can of corn fall ten feet in front of him while his back was turned. At that time both the Calf, myself, and most importantly Mrs. Buffalo had enough. We made it until the 7th inning stretch before it became clear that we had to leave but I'd like to think that a good time was had by all. At the very least I am now rooting for Casey Fien to become somewhat of a mainstay on the team. I mean the dude has a 1.15 ERA. That is totally sustainable!