Although I had another post in mind for the second Collectibles Spotlight, this one prempted. My LCS (that's "Local Card Shop" in baseball card blogger parlance) got in some of this year's Topps team sets, and besides all the Cardinals sets he picked up a Twins set for me as well.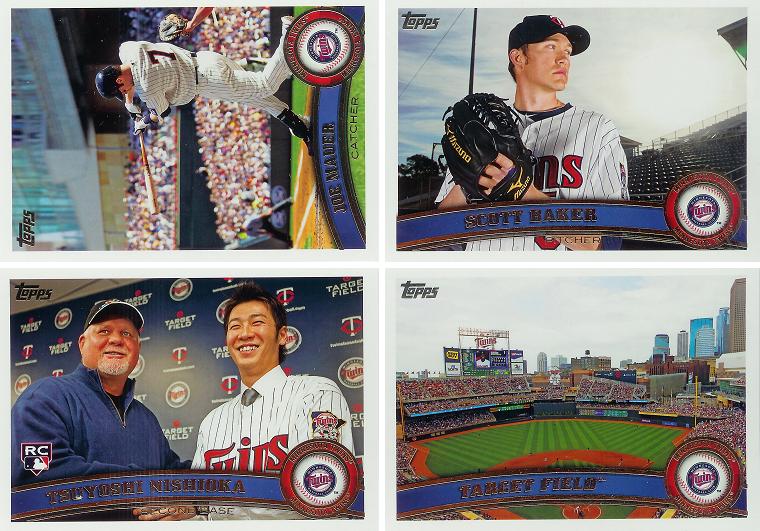 clockwise, from top left: 2011 Topps Twins Team Set #MIN1 Mickey Mantle Joe Mauer; 2011 Topps Twins Team Set #MIN6 Scott Baker; 2011 Topps Twins Team Set #MIN17 Target Field; 2011 Topps Twins Team Set #MIN5 Tsuyoshi Nishioka
The set is 17 cards, in the same format and style as the 2011 base set, the main difference being the numbering on the back, which is MIN1 (Mauer) through MIN17 (Target Field). Several cards are the same as their series one counterparts; I've chosen to show the cards which are new (and will probably look like this when Topps releases series two, whenever that is).
Well, I was excited to see what Nishi's first card would look like, but you know that goofball uncle of yours that tries to sneak into every picture at the family reunions? Nishi has the same problem. The card shop owner thought Mauer's card looked like a (yet another) Mickey Mantle card; meanwhile, "Light Rail" knows which way to look to the bullpen, even in an empty stadium. And speaking of stadii, Target Field is shown (correctly) in a way that MLB Game Day fails -- packed to the gills.
And in case Topps was worried that I didn't like the set because Trevor Plouffe was included, there was an extra Mauer card as well: BONUS!