I'd like to thank everybody for their participation so far in this venture I almost gave up on before it started. The response has been way more fervent than I anticipated, and it looks like it may have inspired Scot to start posting over at Coffeyville Whirlwind again. I consider myself fairly well-versed in baseball history, including several 19th century players. But I knew approximately zilch about this crop of guys and it was a blast to research.
So now to the question on everybody's mind: did the WGOM elect anyone from baseball's early years? Voting turnout was pretty good. Out of our 34 voters, we had 25 submit ballots. Several abstained due to not feeling comfortable with their knowledge of the players, and a couple abstained simply due to life circumstances getting in the way.  Nobody requested that their ballot be kept private, so there will be a link to the spreadsheet with all of the tabulations.
It's also apparent that we have (thankfully!) a diverse group of voters. We have small hall guys, medium hall guys, and big hall guys amongst our electorate. I'm excited to see how this plays out over the years.
Results after the jump! Please also note at the end of this post I've asked some questions of the electorate that I'd like people to respond to if they have an opinion.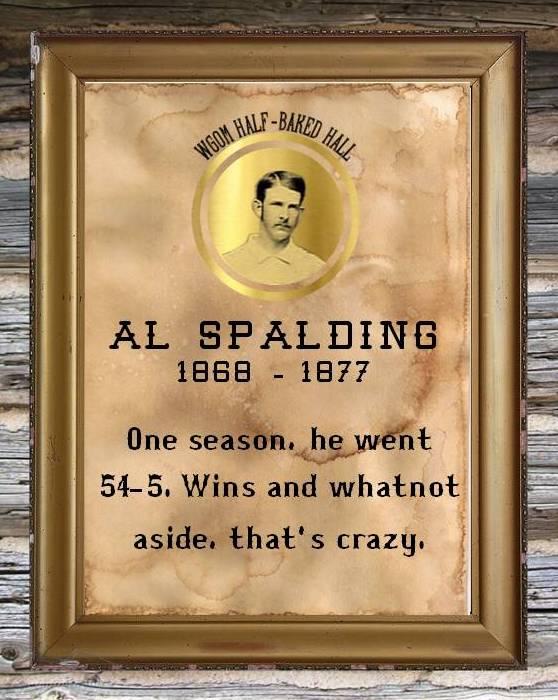 With 76% of the electorate firmly in his camp, Al Spalding become the first member of the WGOM Hall of Fame! As I mentioned, what goes on the plaque would likely be contributions from our electorate. In this case, unknowingly!
Remaining On The Ballot
Ross Barnes: 68%
Deacon White: 60%
Jim McCormick: 48%
Tommy Bond: 36%
Candy Cummings: 36%
Bobby Matthews: 36%
Dave Orr: 28%
Charley Jones: 20%
Will White: 16% (+ 20% Maybe)
George Wright: 16% (+ 16%)
Larry Corcoran: 16% (+ 12%)
Guy Hecker: 16% (+ 8%)
Ned Williamson: 12% (+ 16%)
Dick McBride: 12% (+ 12%)
Joe Start: 12% (+ 12%)
Ezra Sutton: 12% (+ 8%)
Dropping Off The Ballot
Lady Baldwin: 8%
Charlie Ferguson: 8%
Jim Devlin: 4%
Ed Morris: 4%
Jack Rowe: 0%
Jim Whitney: 0%
George Zettlein: 0%
Notes
*George Zettlein was the only player to receive 25 NO votes.
*Despite being underrepresented, only one of the hitters dropped off the ballot.
Here's the spreadsheet with everyone's ballot.
Here's some charts!
Questions For The Electorate
1. Are we satisfied with the dropoff percentage? Did 20% leave too many people on the ballot? Not enough?
2. I am thinking rather than always doing a set number of years per ballot, I plan on going year by year (beginning now with players who retired in 1891) and adding eligible players until we hit a maximum of 30 people per ballot, whether that be just 1891, or if that goes all the way to 1895 or further. Is that a good amount? More/less? I know DPWY said that Think Factory had ballots upwards of 50 players. That seems overwhelming to me, but you all let me know.
3. Were people comfortable with the amount of time allotted for discussion and voting?
4. Any details about the process you'd like to see changed?
5. Do you want a break before the next ballot comes up?