The second election cycle sparked less interest than the first go-round, though we did wind up with 23 voters, including two new voters (FTLT and UncleWalt, welcome!). I understand it was a crazy few weeks for a lot of you, and I understand there could be some changes to how we do this to make the experience more fun for everybody.
Personally, I found 30 people on the ballot to be a bit overwhelming, especially since I didn't just copy/paste my votes from last time. It is definitely harder to judge 19th century players, which could be part of the problem. While some people dropped off after this ballot, a lot of them remain, and I fear they could remain indefinitely. For example, some people want Candy Cummings in for inventing the curveball. Some don't think that's HOF worthy. Is that ever going to change? Will he be stuck around 30% forever? Or will it just take more discussion to see which way that needle ticks?
It appears there was a glitch with the ballot where people who wanted to abstain weren't allowed to do so (except bhiggum, who abstained before the glitch occurred). I'll make sure to fix this for the next ballot.
Okay, onto the results. Did we elect anybody this go round?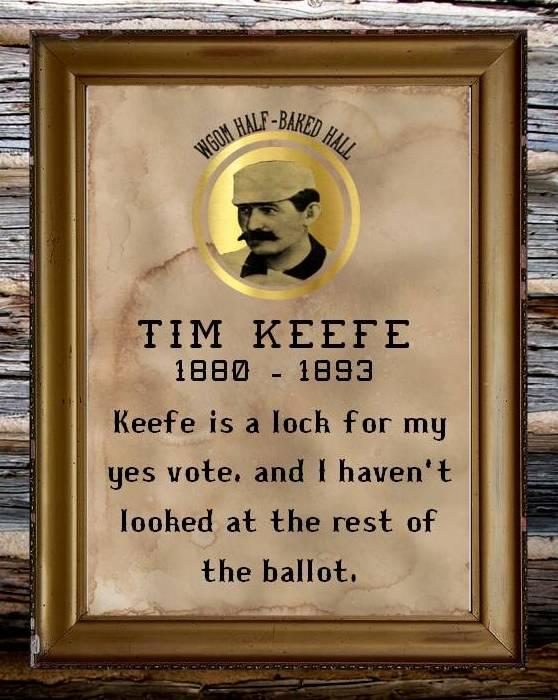 Tim Keefe scoffs at Al Spalding's 76%, storming past him with a more decisive 77% of the vote, making him the second member of the WGOM Hall of Fame. Congratulations Keefe! And congratulations, AMR, for getting your quote on a plaque despite not voting.
Remaining On The Ballot
If a player has fewer than 20% but remains, they had enough maybe votes to get them over 20%. For returning players, their +/- from previous ballot is listed.
Ross Barnes: 64%  -4
King Kelly: 55%
Jim McCormick: 55% +7
Old Hoss Radbourn: 55%
Deacon White: 55% -5
Harry Stovey: 41%
Pud Galvin: 36%
Candy Cummings: 32% -4
Bob Caruthers: 23%
Paul Hines: 23%
Charley Jones: 23% +3
Dave Orr: 23% -5
Tommy Bond: 18%
Ezra Sutton: 14%
George Gore: 14%
Larry Corcoran: 14% -2
Ned Williamson: 14% +2
Tip O'Neill: 9%
Lip Pike: 9%
Bobby Matthews: 9% -27
George Wright: 9% -7
Charlie Buffington: 5%
Will White: 5% -11
Mickey Welch: 5%
Dropping Off The Ballot
Charlie Bennett: 14%
Fred Dunlap: 9%
Dick McBride: 5% -7
Hardy Richardson: 5%
Joe Start: 5% -7
Guy Hecker: 0% -16
Henry Larkin: 0%
John Reilly: 0%