We had 21 voters this time around, including bhiggum, who decided to join the party. It appears the changes made this time around were worthwhile. Proof below the jump.
After hanging over 60% for the first two ballots, Ross Barnes finally makes it over the hump with 76% of the vote. If not for a mysterious "ague," he might have made it sooner. Congratulations Mr. Barnes!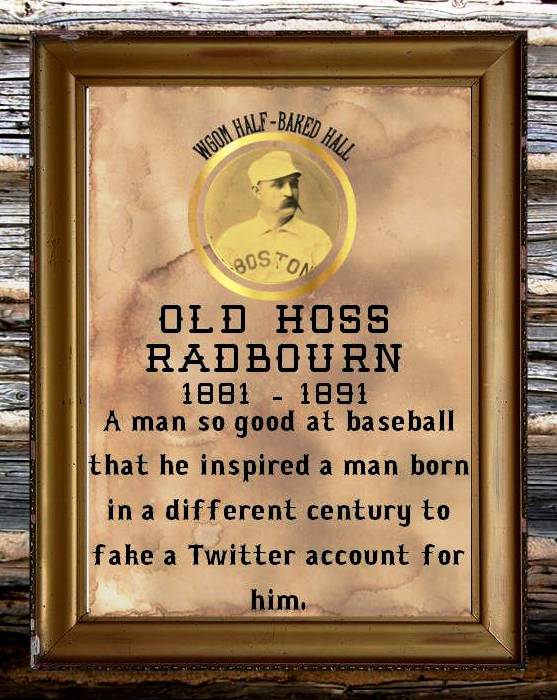 The baddest man of the 19th century was left off on his first ballot, a dangerous move that upset Old Hoss. A few death threats later and his ballot percentage mysteriously rose by 21 percentage points. Tying Barnes at 76%, Radbourn is out 4th member of the Half-Baked Hall!
Remaining On The Ballot (16 Players)
A lot of voters seemingly became "Big Hall" overnight, as every player that has carried over gained votes. Bob Caruthers had the biggest jump at 29%.  John Clarkson has an impressive debut at 62%. Lip Pike hangs on thanks to several "Maybe" votes. With AMR promising to vote next time, perhaps he'll hang on for a while.
King Kelly: 67% +12
John Clarkson: 62%
Jim McCormick: 62% +7
Deacon White: 62% +7
Bob Caruthers: 52% +29
Candy Cummings: 52% +20
Harry Stovey: 52% +9
Jack Glasscock: 48%
Charlie Comiskey: 38%
Pud Galvin: 38% +2
Paul Hines: 38% +15
Charley Jones: 33% +10
Monte Ward: 33%
Pete Browning: 29%
Dave Orr: 29% +6
Lip Pike: 14% +5
Dropping Off The Ballot (15 Players)
In addition to voters getting more liberal with their "Yea" votes, a lot of "Maybe" votes went away, leaving many players without the points needed to stay alive. Five players received no votes, including Ned Williamson, who suddenly lost all of his support, and real-life Hall-of-Famer Tommy McCarthy.  300 game winner Mickey Welch goes the way of the dodo. Both Bobby Matthews and Tommy Bond had 36% on the first ballot. Their drops were fast and hard.
Tommy Bond: 19% +1
Tony Mullane: 19%
Larry Corcoran: 14% +0
Tip O'Neill: 14% +5
Ezra Sutton: 14% +0
Charlie Buffington: 10% +5
George Gore: 10% -4
Mickey Welch: 10% +5
Bobby Matthews: 5% -4
George Wright: 5% -4
Oyster Burns: 0%
Ice Box Chamberlain: 0%
Tommy McCarthy: 0%
Ned Williamson: 0% -14
Will White: 0% -5
Note: The pie chart for Lip Pike is wrong. He has two more maybe votes than it shows here.