Before announcing whether or not anybody was enshrined, I would like to ask the community if anybody wants to volunteer to help with this project. Much thanks to Daneeka's Ghost (Results Spreadsheets) and Hungry Joe (graphics) who have been helping out.
And, if anyone is up for it, I could use some additional help with keeping the stats sheet updated. We still plan on only doing one ballot per month.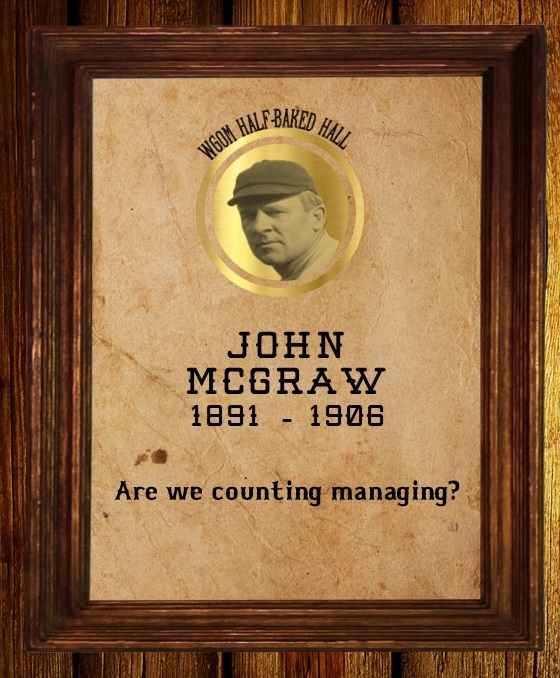 With 76% of the vote, John McGraw makes into the Half-Baked Hall on his fourth try. As a player? As a manager? As a player-manager? The world will never know.
Remaining on the Ballot (15 Players)
Six players were within two votes of getting elected. That's easily a record logjam. Most players received a boost, except oddly, Bill Dahlen. Jimmy Collins (along with McGraw) got a little bit of hype as a third baseman this time around, and saw his percentage leap 32 points.
Only two of the rookies managed to stay on the ballot, Clark Griffith with the strongest showing.
Jesse Burkett: 71% +16
Jimmy Collins: 67% +32
Clark Griffith: 67%
Willie Keeler: 67% +2
Joe McGinnity: 67% +17
Amos Rusie: 67% +7
Addie Joss: 62% +2
Bill Dahlen: 52% -13
Jim O'Rourke: 38% +3
Jake Beckley: 33% +3
Frank Chance: 29%
Vic Willis: 29% -6
Elmer Flick: 24% +4
Joe Kelley: 24% -6
Jack Chesbro: 19% -1
Falling off the Ballot (12 Players)
A heartbreaking end for Buck Ewing, falling one vote short for election in his final ballot. And that leaves the Half-Baked Hall without a single catcher from the 19th century.
Otherwise, no surprises. Tannehill falls off on his second ballot, and the rest to bite the dust were all newcomers.
Buck Ewing: 71% +36
Jesse Tannehill: 14% +9
Doc White: 14%
Kid Elberfeld: 10%
Kid Gleason: 10%
Jack Powell: 10%
Cy Seymour: 10%
Jimmy Sheckard: 10%
Art Devlin: 5%
Bob Ewing: 5%
Deacon McGuire: 5%
Earl Moore: 5%