Can everyone agree this ballot was really uninspiring? We'll wait for DG to update the spreadsheet, but I'm guessing it garnered our least number of YES votes. Did that help any former holdovers?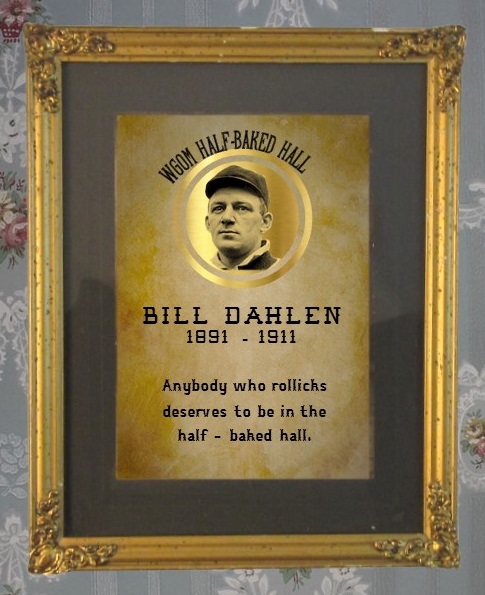 For the first time in the HBH history, a player gets elected on his final ballot. He's fallen short on the various Veteran's Committees more than once, but he triumphed where it counted. With 81% of the vote, Bill Dahlen breathes a giant sigh of relief before punching an umpire.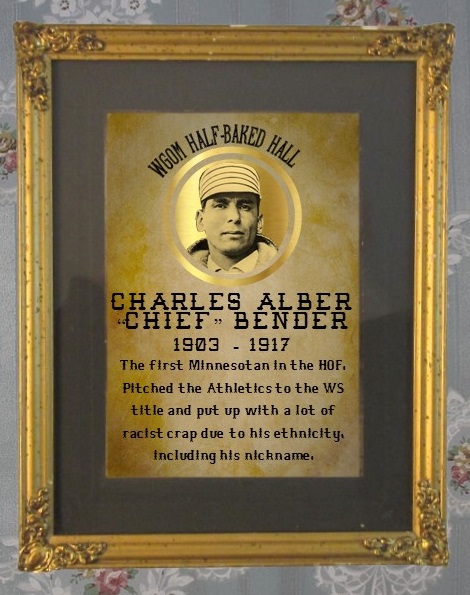 JAWS be damned. Chief Bender climbed an uphill battle forty years before Jackie Robinson did. And, you know, count the rings. With 81% of the vote, he becomes the first Minnesotan in the Half-Baked Hall.
Remaining on the Ballot (11 Players)
The weakest ballot so far saw nearly all of the holdovers gain some ground. The two highest players here, Joss and Griffith, are the two entering their final ballot. Joss fell one vote short of election, Griffith two votes.
Wood gained a lot of ground and has a lot of voters on the fence as well. Cicotte made a significant jump as well. Dutch Leonard is the only rookie who hangs on.
Addie Joss: 71% +3
Clark Griffith: 67% +3
Bobby Wallace: 57% -7
Miller Huggins: 42% +2
Sherry Magee: 33% +1
Joe Tinker: 33% +6
Smokey Joe Wood: 33% +15
Eddie Cicotte: 29% +15
Hughie Jennings: 29% +2
Gavvy Cravath: 24% +10
Dutch Leonard: 14%
Falling off the Ballot (14 Players)
Vic Willis hung around for six ballots but never surpassed 50% of the vote. No surprises here. A few hall-of-famers who the electorate here is not impressed with. Doyle and Vaughn fall off on their second ballot.
Vic Willis: 50% +2
Larry Doyle: 24% +10
Rube Marquard: 14%
Hippo Vaughn: 14% -9
Babe Adams: 10%
Hooks Dauss: 10%
Harry Hooper: 10%
Jack Pfeffer: 10%
Bobby Veach: 10%
Wilbur Cooper: 5%
Jake Daubert: 5%
Ross  Youngs: 5%
Larry Gardner: 0%
Del Pratt: 0%