Summer's almost gone. Ok, for most of you, it's long gone. My parents got a couple inches of snow one day last week.
But I'm still harvesting green beans (hey, they got a late start!), tomatoes, and peppers.
In the hopes of using up some of that bounty, I went to an old standby recipe, with some twists, of course.
Bihari green beans is an easy, delicious one pot meal (plus another pot for rice if you want it; I used leftovers).
You can make it as spicy as you dare, or go mild. Either way it has a ton of flavor.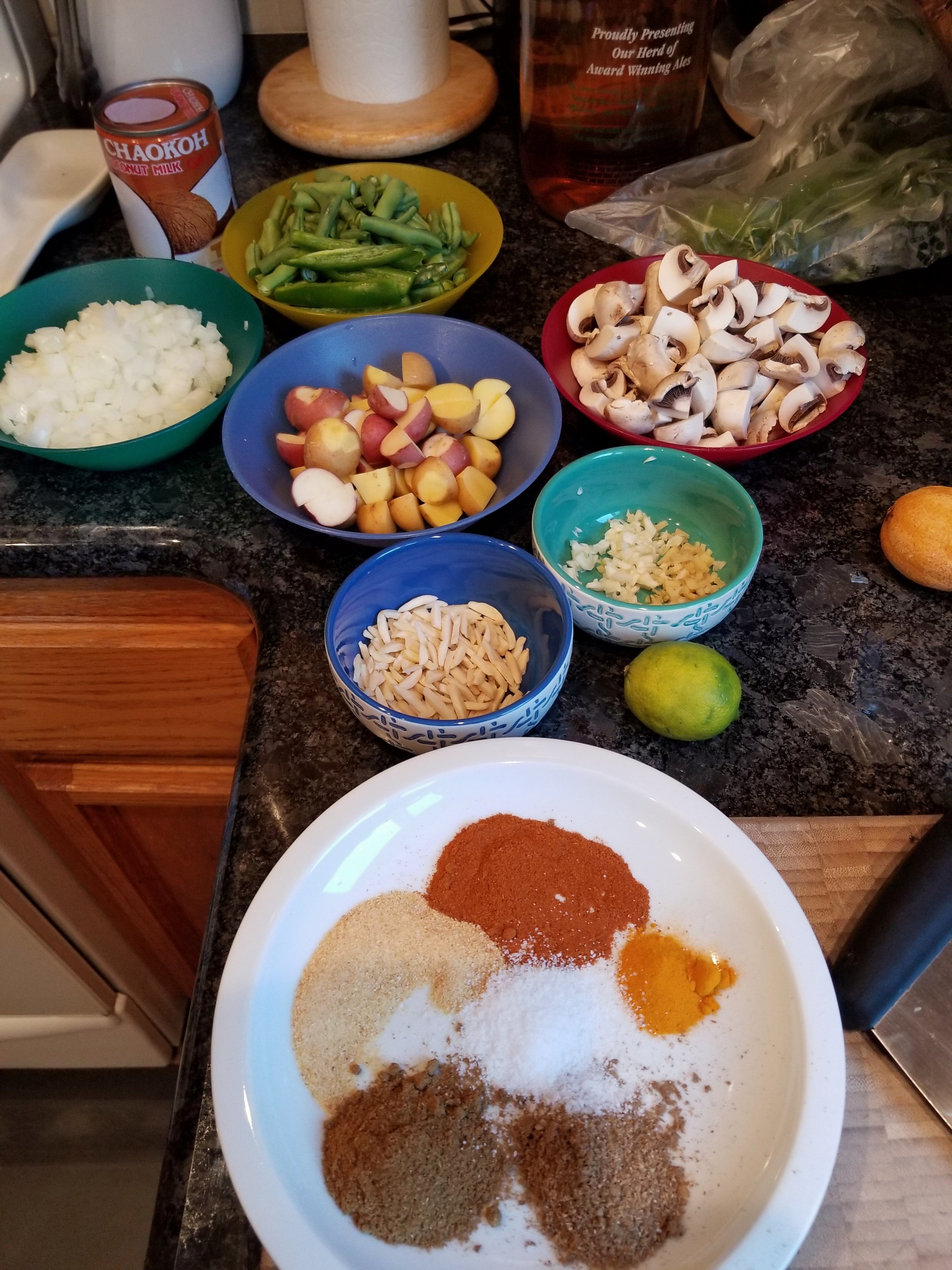 Step one: Mis-en-place.
For this, you need
Ingredients
~1 lb fresh green beans, cut into ~2 inch pieces
2 medium waxy potatoes, chunked
-8-12 mushrooms, quartered
1 tbsp fresh ginger, chopped
4-5 cloves garlic, chopped
1 med. onion, chopped fine
1 can coconut milk
2 tbsp slivered almonds
chopped cilantro for garnish
1 tbsp ground cumin
1 tbsp ground coriander
1 tbsp granulated garlic
1/2 tsp turmeric
1 tbsp paprika
1/2 tsp hot chile powder or chile flakes
1 tsp kosher salt
juice of half a lemon
juice of a lime
Heat a couple tablespoons of oil in a heavy pot. Add the slivered almonds and toast until just lightly browned.
Spoon the almonds out and reserve, keeping as much of the flavored oil as possible.
Add more oil (if staying vegan) or add a big pat of butter. Bring back to medium-high and add the garlic and ginger. Stir a couple of times, then add the chopped onion. Fry for about 3-4 minutes, then add the spices. Stirring frequently, saute for a couple of minutes, making sure the spices don't burn. Add the potatoes (I used about 8 baby red and Yukon Gold potatoes, quartered, but regular Yukon Gold or red potatoes work well cut into big, bite-sized chunks) and the mushrooms. Stir to coat with the aromatics/spices, then add the coconut milk. Stir well, lower heat to simmer and cover. Let cook for about 8 minutes, stirring a couple of times so nothing sticks and the coconut milk doesn't boil over. Stir in the green beans and cover, cooking for another 5 minutes or until everything is tender. Shut off the heat, squeeze in the lemon and lime juices, and correct for salt.
Serve over rice (I like jasmine rice with Indian and Thai recipes, in part because I'm too cheap to buy Basmati). Garnish with toasted almonds and cilantro, unless you're one of those genetically disadvantaged people who can't stand cilantro, and lime wedges. I also served this with a spoonful of my buddy John's homemade lime pickle, which was fantastic. A cold beer goes great with it too.