Bonus Appetite post this month. I heard an interview with Urvashi Pitre ("The Butter Chicken Lady") recently and saw a recipe on the NYT for pressure cooker shrimp biryani that she swore would taste authentic and take mere minutes. She was right on both counts.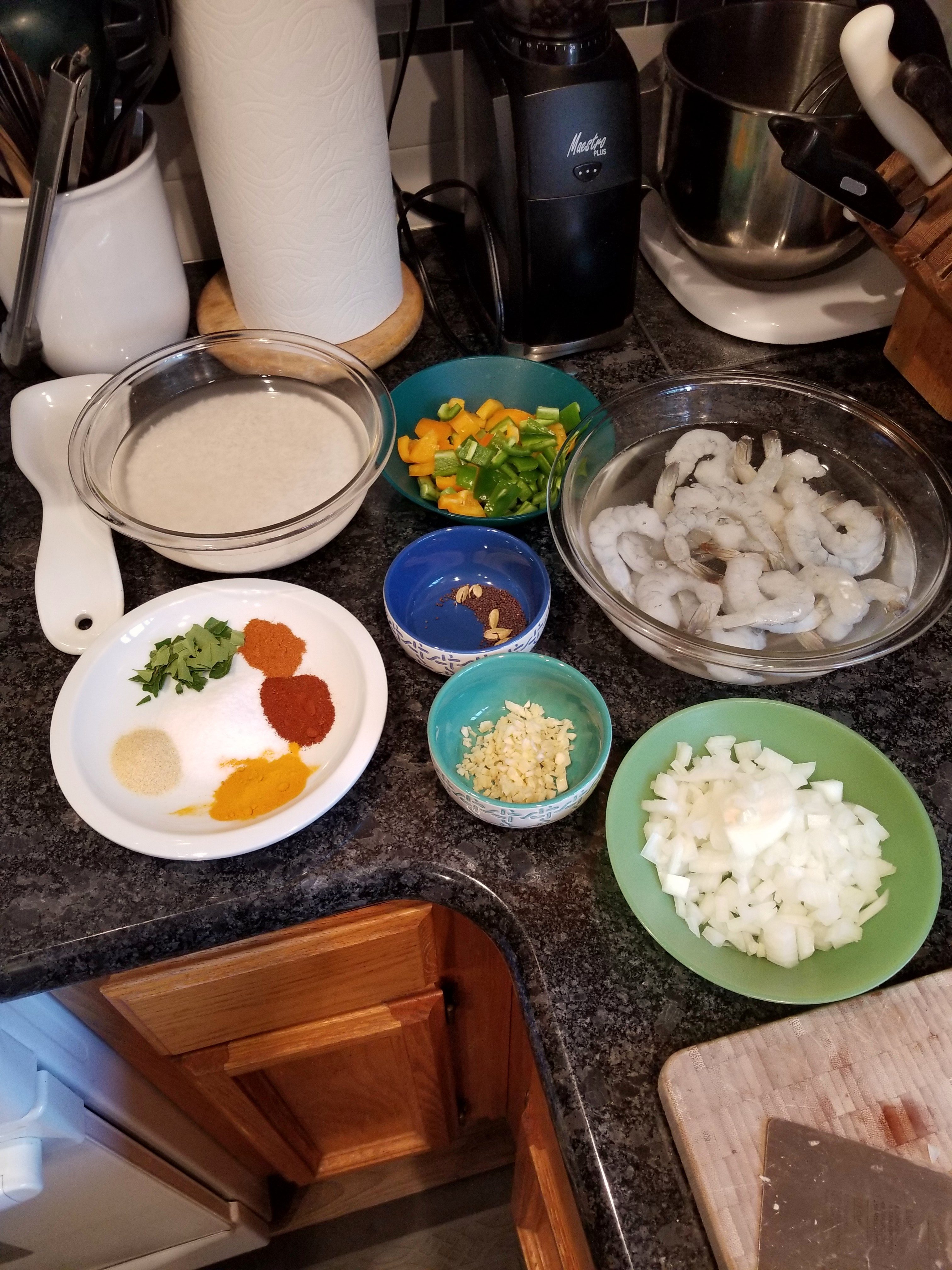 Biryani on the stovetop takes a long time and a lot of prep. This version is quick and easy, once the (not so lot of) prep is done.
1. Soak 2 cups of your favorite long-grain rice for at least 30 minutes in water to cover by 2 inches or so. I used basmati, but jasmine would work well too. When you are ready to start sauteeing the veg, drain and rinse the rice and set aside.
2. Chop an onion
3. Finely chop about a tbsp of ginger and 3-5 cloves garlic
4. I wanted more veg than the recipe called for, so I cut a handful of green beans into 1-inch lengths and chunked a half of a yellow pepper and seeded/chopped a jalapeno (use a serrano for more bite). Even more veg would be good.
5. One small can of diced tomatoes, with juices.
6. Spices: a tsp of black mustard seeds plus 3-4 crushed green cardamom pods in one container. In another container: 1 tsp each turmeric, hot chile powder (such as cayenne; I used an Indian chile; use to taste if you don't like super spicey, although this amount did not make the dish hot, per the Mrs, who is not a chile head), smoked paprika, and granulated garlic, plus 1 tbsp kosher salt and ten fresh curry leaves, torn into small pieces (this is an optional, as curry leaves can be hard to find).
7. 1.5 cups boiling water.
8. Juice of a lime plus wedges for garnish
9. A half cup or so of chopped cilantro for garnish.
10. At least a dozen extra large or jumbo shrimp (I used 21-25s, which worked fine; bigger would be even better), peeled and deveined. At least 3-4 per serving. This amount of rice will easily serve 4-5 as a main course. Mine were frozen, so I had to thaw. They were very cold still when they went in, which probably helped them not over-cook.
Technique.
1. Put the Miracle Machine on "saute" to get hot, then add a nub of butter (I used about an ounce) and a tbsp or so of oil. When the oil is hot, add the cardamom and mustard seeds. Let sputter for a few seconds, stirring, then add the onion and saute for 3-4 minutes.
2. Add the veg and saute for a minute or so.
9. Add the ginger and garlic and stir for a few seconds.
10. Add the remaining spices and stir for a few seconds until fragrant.
11. Add the boiling water. Scrape the bottom of the pan to loosen any fond.
12. Add the rice, shrimp and tomatoes. Stir briefly, then put the lid on. Set to manual, high pressure for THREE MINUTES. I actually added the rice, stirred in the tomatoes, then put the shrimp on top.
13. When the timer goes off, do a manual release (mine did not even release any steam!), remove lid and stir in the lime juice. Turn off the machine. Put the lid back on and let rest for five minutes.
14. Serve. You can stir in the cilantro or use it for garnish if you have some cilantro haters.
15. Enjoy.
Start to finish, this took about 30 minutes.