My trusty weber kettle recently started to rust in several spots because a subcontractor* dropped a hammer on it last year.  I was the next person in line at work to get free swag from our U-Line order so I got a new weber kettle (!). I spent a lot of time on the interwebs looking for ideas on how to modify my old kettle before settling on making a DIY electric smoker. Why electric you ask? Because it's a hell of a lot easier than setting up and babysitting a charcoal smoker. Yeah, yeah, yeah, I've heard all the complaints about how smoking shouldn't be easy, and that half the fun is tweaking the vents, and how it's cheating, and how / and how / and how. ... pfffffffffft. After testing this unit out and dialing in 225 and 250 on the thermostat I can say that this is pretty close to set it and forget it. I bought a replacement electric smoker element from amazon with an adjustable thermostat. The I used a dremel with a metal cut off wheel to cut the opening for the electric element, and then had to bend some parts into submission with brute force. The electric element has a set of mounting holes, and I drilled through the kettle and set the element in place with some stainless bolts. Figuring out how high to place the element was the only bit of struggle I had with this build. I removed the charcoal grate and made sure that the ash sweeps / vent covers weren't impeded and set about cutting open the grill. I bought two stainless steel chafing pans, the smaller one to act as a water pan  / dripping catcher, and the other to hold wood chips.
The first run featured perfectly cooked salmon and pulled pork, but the smoke flavor was definitely lacking . After looking into the ash tray I discovered that most the wood chips hadn't really caught fire. I figured out that the pan gets hot enough to make some of the chips smolder, but not hot enough to foster minion method burning. Some further inter-webbing solved that problem.  Enter the a-maze-n pellet smoking tube. While I haven't actually used the pellet smoker yet, but i found that the wood pellets** produce a ton of smoke just laying on the bottom of the larger chafing pan. I also started a few of the pellets in one corner to ensure smoke production The second run produced excellent , smokey results. I ran at 245˚ ish degrees and successfully smoked a boston butt, a chicken carcass, and some pink salt. When the a-maze-n shows up I fully indent to cold smoke cheese, tofu, and nuts (and anything else I can think of), and I'll update on how it works.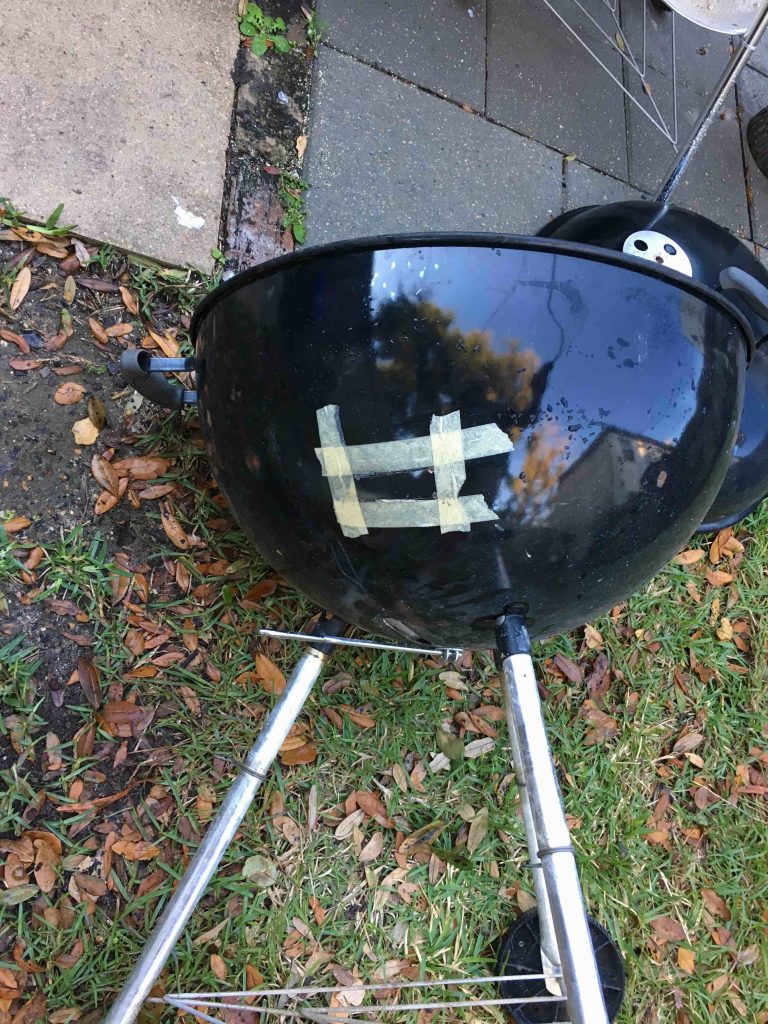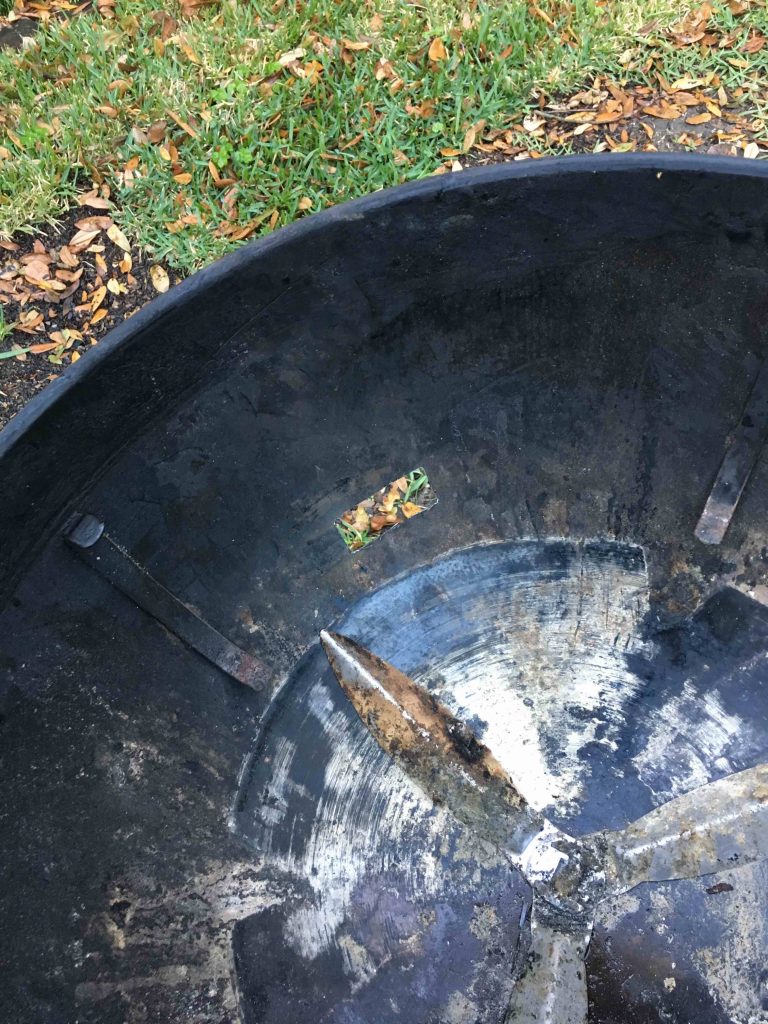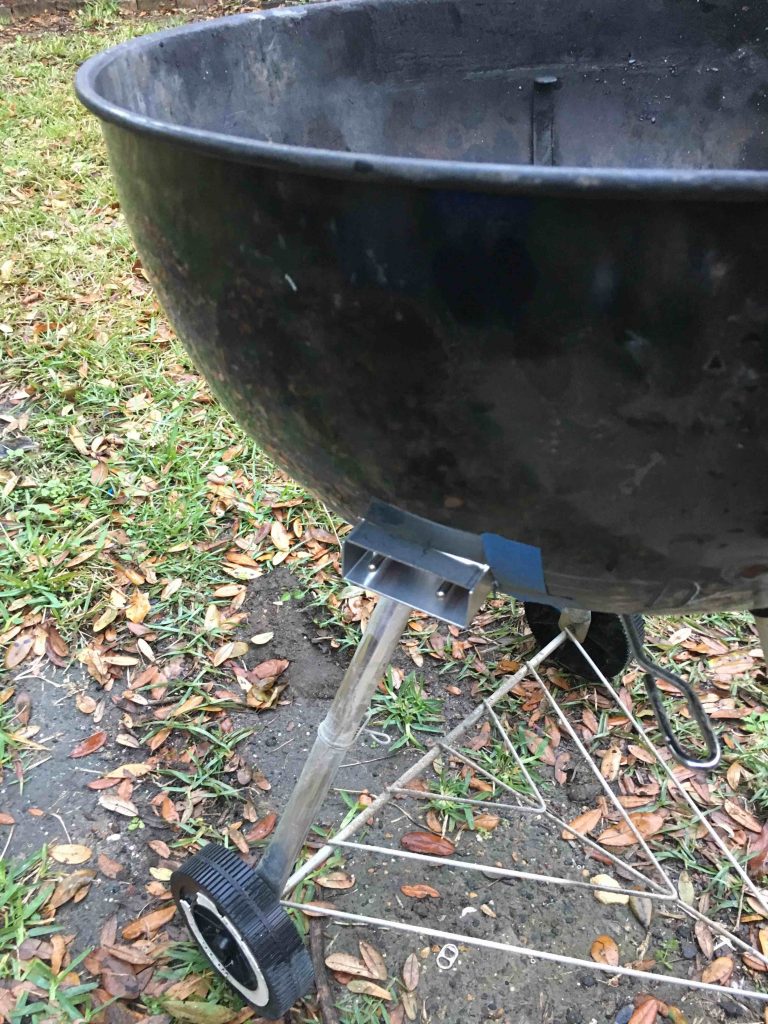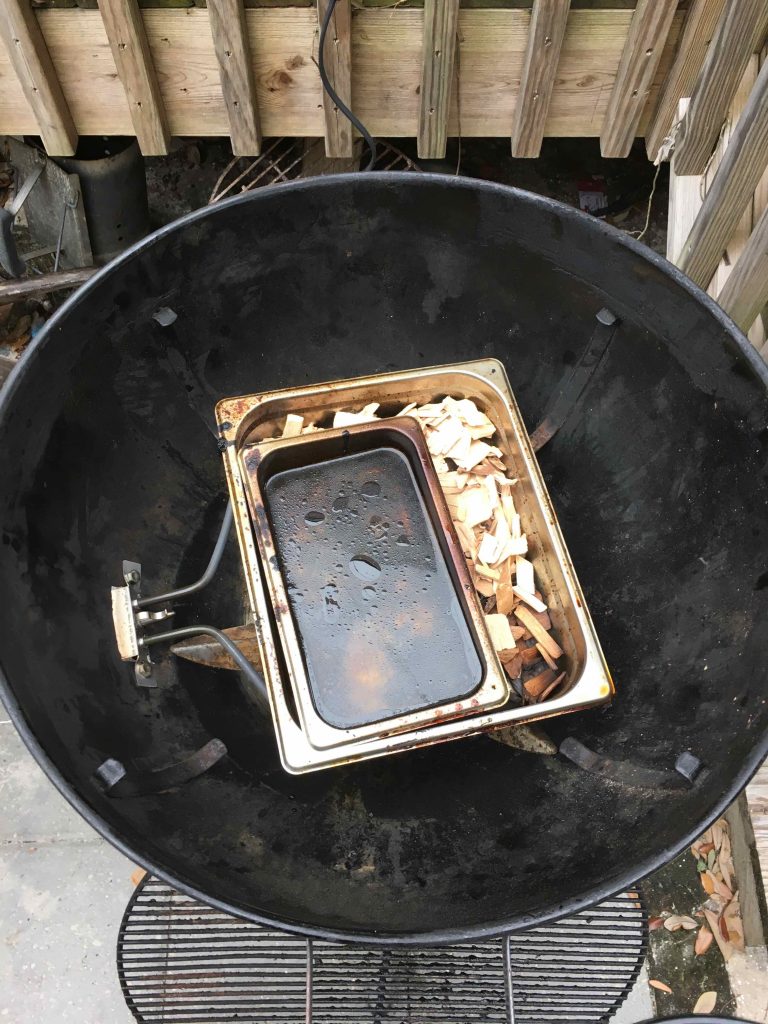 *me
**There is a mountain of information and opinion on pellet smoking / pellet composition / binders / ////// The conclusion I came to was to use 100% hardwood pellets, and what I found in my area was traeger branded pellets. The flavor was excellent. One other note on the traeger grills, I've had "smoked" meats from pellet grills that were excellently cooked with no smoke flavor. What I've read now makes sense, the pellet grills get to temperature and then maintain temperature without actually burning that much fuel. No burning = no smoke flavor. I feel pretty great that I've made something out of a rusting kettle that makes food better than the 1000$ pellet grills...