I've always been happy to leave the cocktail mixing to the pros, but while sheltering in place, I've been playing around. My younger son is really into watermelon these days, which made me wonder how watermelon might work in a cocktail. I came across this recipe, and after a little experimentation, I might just have found my favorite summer cocktail. It's not to sweet and has a spicy kick that I can't get enough of. Plus, the watermelon "ice cubes" are genius.
Planning note: you'll need to prepare the infused vodka, simple syrup, and watermelon ice cubes ahead of time. This might seem like more work than you want to do for an easy summer cocktail, but it's really not all that much. If you're making cocktails at home, you likely already have a jar of simple syrup in the fridge. And I've found that the extra watermelon juice is a great addition to fruit smoothies, which I've been making regularly for the boys.
INGREDIENTS
2 oz. jalapeno-infused vodka
1 small, seedless watermelon (or a package of cubed watermelon), from which you'll make juice and ice cubes
1 lime, juiced to yield 1 tablespoon juice
1 tablespoon simple syrup
splash of sparkling water or club soda
lime wedge for garnish (if desired)
DIRECTIONS
To make the jalapeno-infused vodka:
Measure your desired amount of vodka into a mason jar. (I've done this with 4 ounces and 8 ounces.) Slice 1 jalapeno pepper into rounds and add to mason jar. Put the lid on and let infuse for 30 minutes. (This gets quite spicy quickly, so you do NOT want to forget about it and let it sit for hours!) Strain out pepper and seeds and return vodka to mason jar. Store at room temperature until ready to use.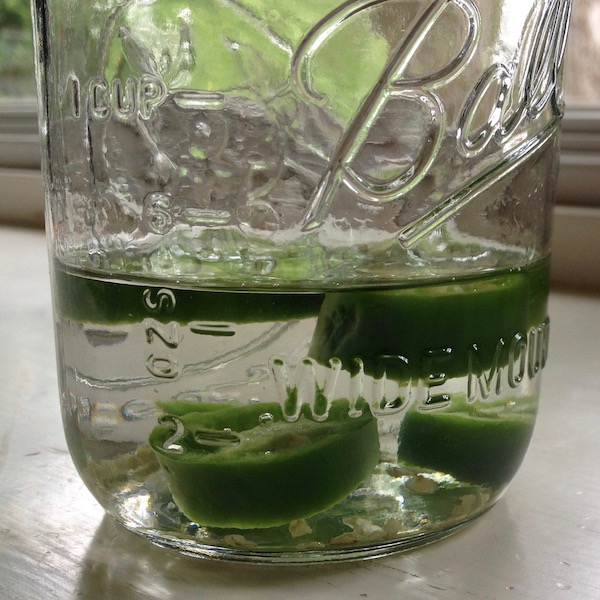 To make the cocktail:
Cut watermelon into cubes approx. 1.5 inches square. For each drink you plan to make, throw four cubes into a ziploc bag and freeze for 2 hours (or longer). These will be your ice cubes. Take about a cup of watermelon cubes and liquefy, using an immersion blender, full-size blender, or food processor. Note: I strained the juice the first time I made it, but I found that by not straining it, I get more watermelon flavor in the drink, which I prefer.
Measure 1/4 cup (2 oz.) watermelon juice, 1 tablespoon fresh lime juice, 1 tablespoon simple syrup, and 2 oz. jalapeno-infused vodka. If you have a cocktail shaker, shake it all up and strain into a glass over your watermelon ice cubes. If you're shaker-less like me, stir vigorously and then pour into a glass over your watermelon ice cubes. Add a splash of sparkling water (I probably use about 1 oz.). Garnish with a lime if desired. And enjoy!