The series is tied, and now moves to Minnesota for the next two games.  The Wild have dominated in general as the home team, and have had three years of success against Las Vegas in Minnesota.
On the other hand, they will probably have to score more than one goal per game to win these two games.
Game 2 was much better for the Wild in terms of generating high-danger chances in front of the net. (graphic, as always, from MoneyPuck).  The Wild got much better at doing what makes them offensively successful but still found no reward in game 2.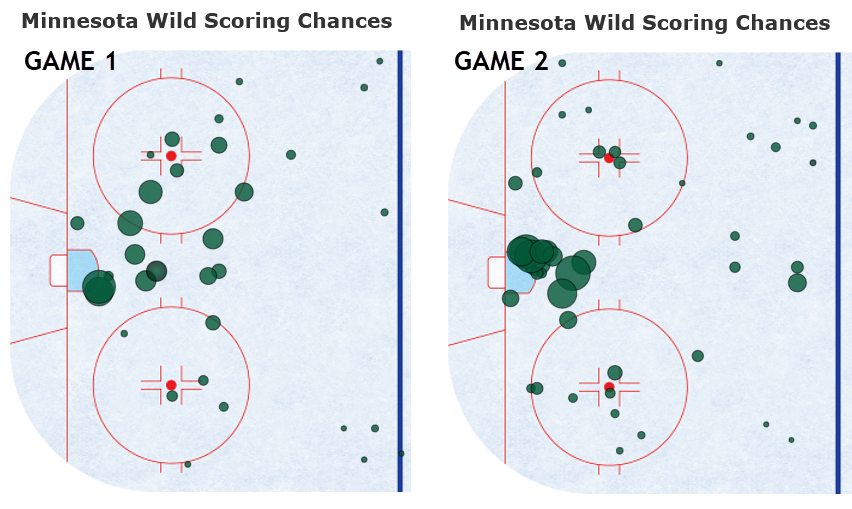 More traffic in front in game 3 and these chances will start finding the goal. If the Wild keep generating shot charts like that game 2 chart, then the only way Las Vegas wins is if Fleury is an actual superhuman (I'm not ruling that out).
The other big story from game 2 was the turnaround of the Fiala-Rask-Johansson line - Russo wrote a pretty detailed takedown of Johansson today at the Athletic, and he's not wrong about the lack of contribution by #90.  But even then, it's hard to imagine this line controlling play any more than they did in game 2.
| Game2 Lines | xG% | xGdiff |
| --- | --- | --- |
| Greenway-Ek-Foligno | 82.1% | +0.90 |
| Fiala-Rask-Johansson | 81.7% | +0.83 |
| Kaprizov-Hartman-Zuccarello | 73.6% | +0.44 |
| Sturm-Bonino-Bjugstad | 9.8% | -0.30 |
The blueprint is there. Play like they did in game 2, and find a way to finish a couple chances in close on Fleury.  Simple, right?