Weather: 60°F, cloudy
Wind: 16 mph, in from CF
Attendance: 37,276
Time: 3:55
Twins record: 12-21 (tied for last in AL Central, 10.0 GB)
Fangraphs boxscore | MLB Game Wrap
Highlights:
Highest WPA, hitter: Span .150 (2-4, R, BB) | Highest WPA, pitcher: Mijares .299 (2.0 IP, H, BB)
Outfield defense - Revere's diving catch and Span's sliding catch
Lowlights:
Lowest WPA, hitter: Tolbert, -.346 (0-5, 1 SO) | Lowest WPA, pitcher: Hoey, -.350 (0.1 IP, H, BB, ER)
Tolbert: still batting second
MLB's continued employment of Angel Hernandez and Joe West
BOSTON -- The latest rumblings out of the Twins' clubhouse are something else indeed. General Manager Bill Smith accidentally ran his iPhone through the visitor's clubhouse washing machine in Chicago last week after spilling a Chicago-style hot dog on his pants. Smith immediately put the device in a box of rice, to no avail, and had to reluctantly borrow infielder Matt Tolbert's phone so he could make some calls and find a new catcher. Steve Holm wasn't quite Corky Miller bad in his brief appearance, but Bill Smith eventually figured out he wasn't an answer to any question worth asking. Tolbert reportedly told Smith he doesn't make enough for the Twins' GM to call 411 and ask for the Rangers' front office (more on this in a moment), but could swing a call to AAA Rochester as long as it happened on his plan's nights & weekends minutes.
Red Wings infielder Toby Gardenhire is apparently #3 on Tolbert's speed dial, right behind Voicemail (#1) and former teammate Nick Punto (#2). Smith accordingly placed his call to Gardenhire the Younger, who relayed the request for a catcher to Red Wings manager Tom Nieto. Nieto, himself a former Twin, initially volunteered his own services, but apparently requested a few days to iron the fungoes out of his swing, time that Smith just wasn't willing to waste.
In his first season with the Twins, Nieto briefly served as Tim Laudner's backup and outhit regular backup Sal Butera late in the season (.071/.188/.143 for Nieto vs. .063/.118/.125 for Butera in Sept/Oct) before being inexplicably left off the playoff roster. Nieto actually paced Twins catchers in hitting and on-base percentage that year, posting a .200/.276/.314 line to Laudner's .191/.252/.389 and Sal Butera's .171/.217/.243 mark. Overall, Nieto posted an OPS+ of 17 in his Twins career, which spanned 183 plate appearances between 1987-88. When reached for comment, Nieto said, "I out-hit Sal Butera in 1987, and I believe in the depths of my soul I can out-hit his son in 2011." Drew Butera currently owns a positively Buterian .172/.213/.251 line. "But the Twins value defense behind the plate," Nieto continued, "and I accumulated -0.2 dWAR in my Twins career, so Bill Smith elected to pursue other options."
So, that's why Rene Rivera is now with the Twins. But why Rivera instead of, say, Rangers catcher/first baseman Mike Napoli, who has only 63 at bats (but 6 HR) this season despite a career 119 OPS+ and a .238 ISO? Napoli, only 29, is likely still in his hitting prime, and despite whatever Mike Scioscia - Napoli's former manager - thinks, he appears to be a serviceable catcher. Unfortunately, Smith laundered his iPhone and apparently hasn't yet worked up the nerve to tell Jim Pohlad, Dave St. Peter, or Wade Navratil, the Twins' Senior Director of Technology. Of course, Smith could always look up Rangers GM Jon Daniels' number in his laptop's address book, or drop Daniels an email for that matter, but an unnamed source in the Twins' front office divulged that Smith has forgotten how to turn his laptop on. According to another source in the Twins' front office, former Twins GM Terry Ryan and former Twins manager Tom Kelly have offered to call former Twins GM Andy MacPhail, currently the Orioles' President of Baseball Operations, about the availability of Matt "Mauer with Power" Wieters, but Smith has repeatedly expressed the desire to put his own stamp on the club.
-------
This week's View from the Ballpark: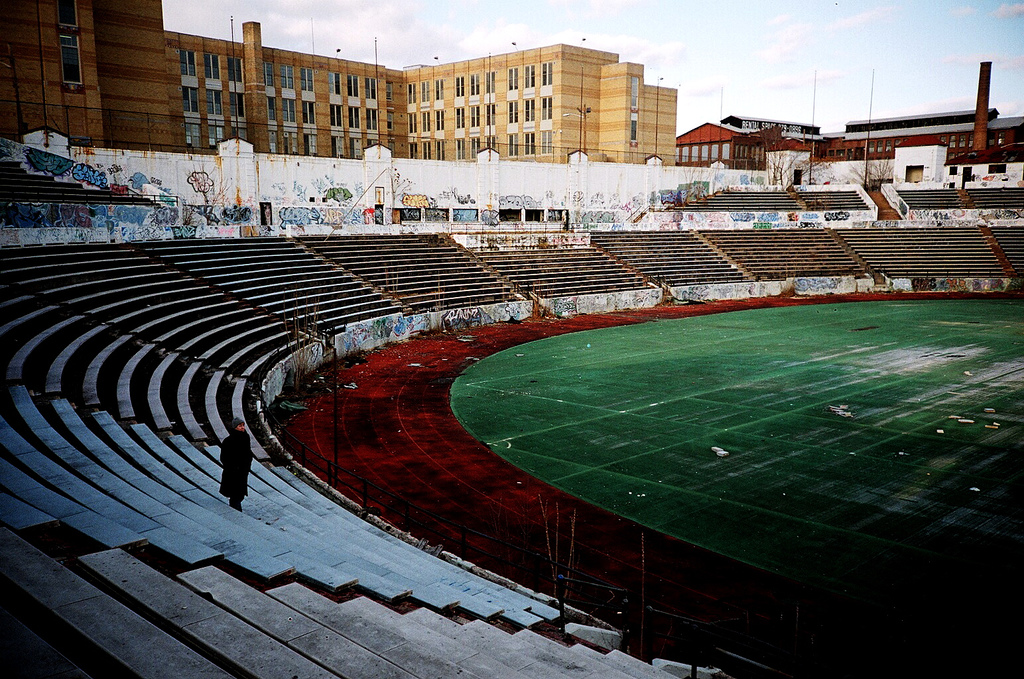 I know at least 5 6 7 10 Hall of Famers played here. | photo by Flickr user LugoLounge
Remember, no embiggening.