My favorite part of the new NHL season is that the NHL is insisting on calling it the 2020-21 season even though all the games will be played in 2021.  Maybe if we keep pretending like things are normal, that will help?
The Wild kick off the 2021 season with two games against the LA Kings in LA, Thursday and Saturday.
Are the Wild any different from previous years?
Yes and no. Staal is gone, Koivu is gone, Dubnyk is gone.  That's a whole bunch of turnover up the middle of the ice.  In their place, the Wild have opted for a bunch of good to OK players (Bjugstad, Bonino, Johannson, Talbot) on short contracts to fill the gaps. They fit with the general idea of a Wild team is top-to-bottom OK, but never very spectacular.
If you're looking for spectacular, I think everyone is pinning their hopes on Kevin Fiala (whose 19-game stretch at the end of last year was that of an honest-to-goodness superstar) and Kirill Kaprizov (he's here! he's here! no longer just a source of Twitter highlight videos with Russian announcers!). Parise will probably still be a solidly productive player (that contract isn't horrible .... yet).
The defense is still the strength.  I've actually seen season previews that tout the 3rd line (Greenway/Eriksson Ek/Foligno) as the best defensive line in hockey (get excited!), and the defensive corps is still just really really good. Even if Dumba doesn't bounce back, the top 6 defensemen are all solidly above average or among the best in the NHL (Brodin/Spurgeon). Suter will probably still be a solidly productive player (that contract isn't horrible .... yet).
All of that is to say the Wild improved their defense/goaltending which was already a strength.  They added Kaprizov and a few solid but unspectacular centers while losing a few solid but unspectacular centers.  So, everything put together, they should be right around the playoff bubble, probably getting in, but not expected to do a whole lot if they get in.
Are the Kings any good?
Probably not. They were almost at the bottom of the league last year, and aren't projected to improve a whole lot this year. They are adding prospects like crazy, but don't have a whole lot to be optimistic about this year.
How will this season be kind of weird?
The Wild are in the Honda West Division, playing these other seven teams over and over for the next 56 games. Ending up in the West was a little bit of a nightmare for travel and reasonable start times, but it's kind of nice for the Wild's playoff chances.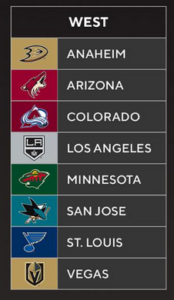 I think everyone pretty much agrees that Minnesota is the fourth-best team in the division and that they aren't particularly close to either third or fifth.  Colorado and Las Vegas are really good, and the Blues are also a good team.  Those will be the top three teams unless somehow hockey turns out to be inherently unpredictable.
Anaheim, San Jose, Los Angeles, and Arizona all have a lot of improvement to do to make it to playoff-caliber.  There's always a surprise team that clicks and puts it together (I'd guess Anaheim is most likely to do that - but that's just a guess), but most of these teams are still a few years away.
Are the Wild rebuilding?
Kind of? They are accumulating draft picks (they have two first-rounders this year) and have a whole bunch of forwards on short contracts (only Parise, Zuccarello are signed for more than two years - ETA - and now Foligno).  There could be a bunch of wheeling and dealing at the deadline if the season looks unpromising.
Should I watch this team?
It's not going to be a dominant season, but I think if the Wild find a line (or two?) that can score they will be passably good. Given the California teams they will be playing they should get some wins, and if they play Colorado, Vegas, or St. Louis tough it will be fun. Of course, if they end up relying on Cam Talbot to save games for them, it could be a low-scoring, frustrating year.  Realistically, we'll get flashes of both and be working out playoff-clinching scenarios right down to the last day of the season.  So if that sounds like your thing (and if you're a Wild fan, it must be) then yeah, you should watch this team.