They've gone and done something haven't they?
Wild had a whole bunch of deals this week, and I think they pretty much all point to what Bill Guerin thinks the team needs to contend.
Nico Sturm for Tyson Jost
Well, so much for the Whangdoodle-crush on Nico Sturm.  Sturm was the kind of player that was easy to like, direct and fast and a very no-frills kind of game. The kind of player that has value on the fourth line, and scores just enough for you to wonder if maybe he could be good enough for second line minutes?  But no, he isn't.  And the Wild weren't going to resign him after this year when they have Dewar and Duhaime that play almost exactly this role. Getting something for Sturm before he walks is good business.
Sturm was third among Wild forwards in time-on-ice shorthanded this season, where he was slightly below replacement level according to Evolving Hockey's GAR model. This is a theme we'll come back to.
Tyson Jost is pretty similar to Sturm except he's got a longer track record and he's under contract through the next season.  Comparing their GAR defensive numbers over the past four years drives home that this trade was switching out players in the same role more or less.
| Player | Minutes | Even Strength dGAR | SH Minutes | Shorthanded dGAR |
| --- | --- | --- | --- | --- |
| Sturm 2018-2021 | 638 | +3.1 | 65 | +1.9 |
| Sturm 2021-2022 | 627 | -0.9 | 90 | -0.4 |
| Jost 2018-2021 | 2527 | +3.7 | 128 | +0.2 |
| Jost 2021-2022 | 780 | -0.2 | 112 | -3.5 |
2023 3rd round pick for Nicolas Deslauriers
I mean, OK? Deslauriers isn't a great player as far as creating offense, but he's been a consistently adequate defensive forward who is willing to punch people when called upon. In the last four seasons he has contributed -0.4 defGAR and a -5.3 offGAR.
He's seen some penalty kill time on the Ducks this year, and been an adequate defender there.
Kaapo Kahkonen and a 5th round pick for Jacob Middleton
Minnesota had a surplus goalie (more on that in a minute) and Kahkonen was going to need a new contract after this season. I'm not a believer that Kahkonen was ever going to be a starting caliber goalie, but he has shown that he could fill in capably sometimes, and has actually outperformed Talbot this year in limited chances. Still, I think it's understandable that the Wild decided to move on from Kahkonen and look elsewhere for backup help next season.
Jacob Middleton is in his first year of consistent playing time and has acquitted himself pretty well. He has solid defensive numbers and the underlying numbers on offense look respectable (although the results so far haven't matched the analytics). He'll be an RFA next year, and should probably be a cheaper option than Goligoski if the Wild need to fill more spaces on the blue line.
I probably like Middleton the best of any of the skaters that the Wild acquired this week. Once again, he has played the penalty kill consistently, and has good numbers and results there.
Jack McBain for a 2022 second round pick (from Vancouver)
Vancouver should pick somewhere in the middle of the second round, and McBain said he wouldn't sign in Minnesota, so this is a good get for the front office.  I don't think that McBain is going to be a star in the NHL, but could become a third/fourth line player and contribute.
2022 Conditional 1st-round pick for Marc-Andre Fleury (50% salary retained by Chicago)

Here's the big one. Fleury hasn't had a great year and even if you adjust for the defense in front of him, it doesn't look anything like his truly spectacular season last year.  Still, if the goal is to take a swing at a deep playoff run this year (which seems pretty reasonable for the Wild) then you absolutely add Fleury if you can get him.
How Talbot and Fleury share time is a question.  Whether Fleury can improve to anything close to what he did last year in Minnesota's system is a question.
What's not a question is whether Guerin is pushing in on success this year.  Adding Fleury is as much a signal as anything else.  This is a year where Minnesota is going for it.  Coming into the final 20 or so games of the season the team has been consistently good on the offensive side of the puck.
There have been a couple of swoons in their defense at 5 on 5, that you can see on the graph below that charts the team's even strength expected goals for and against.
But more recently, two problems have become obvious.
1. Penalty Killing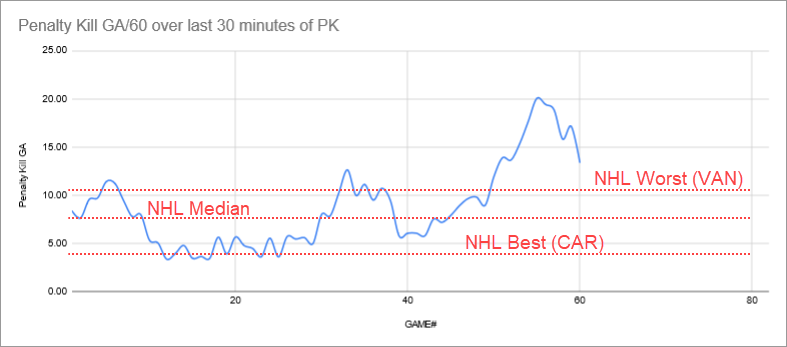 Woof, that got ugly right around game 30 and really hasn't gotten any better since then (the median penalty GA/60 in the NHL is 7.45).
2. Goaltending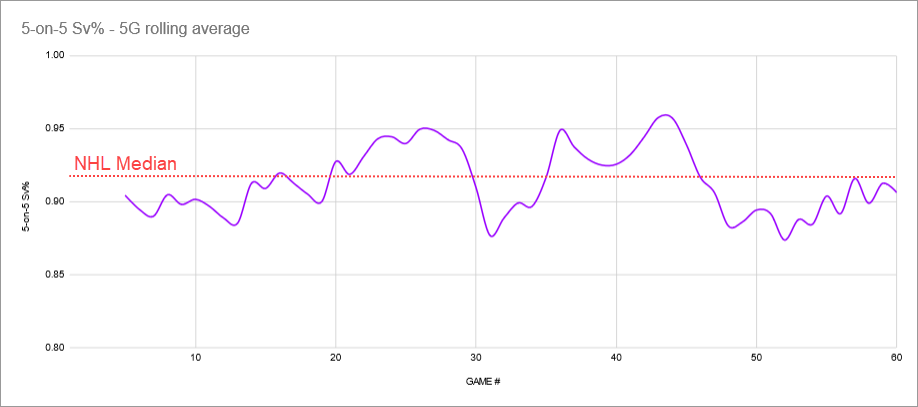 The league median save percentage at 5 on 5 is .919, a number the Wild tandem hasn't topped in a five-game sample in the last month and a half.
And so Bill Guerin set out to address these two issues.  Deslauriers, Middleton, Jost all have some experience as penalty killers. (Jost's numbers this year are a little suspect, but has a better track record).  League-average goaltending doesn't seem like an unreasonable expectation from Fleury going forward. It will be pretty easy to assess these moves at the end of the year and see if they had the intended effect, because the intended effect is so clear.
Credit where it's due to the Wild front office, they identified the problem and tried to address it, now there's 20 games to see whether it worked.