I have never been away from the WGOM for a whole week.  Hopefully you all can point me to any awesome threads I missed.  And, this may be really pretentious, but I thought I'd recap some highlights and lowlights of my trip.  This was my first ever road trip, and aside from a flight to Yakima to see Spooky, I had never left the Midwest before.  So the last week I was awash with a whole lotta new.
Hotels

We stayed in one America's Best Value Inn, three Best Westerns, and one Days Inn.  All of these were more comfortable than the Excalibur on the Vegas Strip.
This is partly due to the fact that the Excalibur had timeshare hounds all over us the whole two days we were there.  More on that in a bit.
Dalhart, Texas was by far the most hospitable town we stayed in.  Though the guy at the desk being  a huge Twins fan (and from Grand Rapids) may have helped.
Driving
We got AAA just in case.  It did save us on hotels.  Thankfully, no car issues.
Gas is more expensive in the mountains, but not by much.  However, any gas station within 30 miles of Grand Canyon price gouges.
Speaking of mountains, my lord is Colorado beautiful.  I can't remember how many times I said "Wow, this is gorgeous".
I also don't know how many times I said "Oh, shit!" while navigating said mountains.
Colorado was also the cleanest state.  Not one smidgen of roadkill anywhere, and it was also the only state I saw no blown out tires on the freeway.
We saw a massive accident in Omaha.  A truck was burning on the freeway for five hours, and there was only a shell of the truck left.  Nobody was hurt, apparently.
Kansas City was a nightmare to navigate.  Really poor signage.
Ran into my first ever DWI stop in New Mexico.  I sat for ten minutes while cops were checking random cars in front of me.  He waved me on through.
Sightseeing
Red Rock Amphitheater near Denver was breathtaking.
At the Grand Canyon, we just hiked along the South Rim.  Kind of meh, actually.  I am sure there are more exciting things you can do there.
Took the World's Longest Second Longest Tram near Albuquerque to the peak of Mount Sandia.  That was fun.
Vegas
Penn & Teller were pretty good, though some tricks were old and samey to me.
Ka was breathtaking.  What an amazing show.
The Pinball Hall of Fame was super trippy.  I played Tron (arcade) for the first time in 25 years.  It's still excellent.
The pool at the Excalibur was easily the highlight there.  Kudos, actually, to that part.
My father gave me $100 to place on black at a Roulette wheel.  I hit black 13 and walked away.  One person told me to go away, and one shook my hand.
I played $10 blackjack table for a half hour.  At one point I was up $120.  Finished up $60 before I walked.  That's all I gambled.
The cabs give rates per mile, but in reality, it's based on time spent.  Explains why we can sit at a red light for five minutes and our meter goes up two dollars.
Restaurants
Went to my first In N Out burger.  I would rate the burger the best of regular fast food joints.  Not as good as Five Guys, though.
Centro in Des Moines--Excellent.
Denny's in Ogallala, Nebraska--Dreadful.  We could not find a mom & pop place and were starving.  Whoops.
Morrison Inn in Morrison, Colorado--Pretty good Mexican.
Seafood Buffet at The Rio (Vegas)--Mediocre, and at $45.00 to get in, definitely not worth it.
The Buffet at MGM Grand--Above average, and at just $30.00 to get im, worth it if you're there anyway.
Canyon Star in Tusayan, AZ -- Pretty good.  Our waiter was from my hometown (Coon Rapids) and we both went to ARCC and the U of M.  Crazy.
Rudy's BBQ in Albuquerque -- Really hokey, but really good stuff.
Subway in Pratt, KS -- Awful.  Not only was the service terrible, but my sub tasted off.  We went there for convenience, and it took us 20 minutes to get out of there.
HuHot in Des Moines -- Not as good as Mongo's Grill, but better than Kahn's as far as Mongolian Stir Fry restaurants go.
Timeshare
This is embarrassing, but I thought I'd share that we actually agreed to go to one of these meetings for some show tickets (that we didn't use) and $50 (which we did use).  What a waste of essentially three hours of our trip (we were told it would be two hours tops).  We tried to have fun with it, because we knew there was a zero percent chance of us buying anything.
Our guy claimed to be from Mason City, IA and his wife was from Minneapolis.  Yet, he knew very little about either state.  He claimed to be a former truck driver.
He also claimed that he owned a timeshare in Vegas and goes on many vacations.  Yet, somehow he's working for the timeshare people full time.
His best claim was that when he found out I was a social worker, he said his wife worked in Phoenix as a drug counselor, marriage counselor, and in child protection.  This is about as likely as being a criminal lawyer, a divorce lawyer, and a copyright lawyer all at the same time.
When we asked to see a picture of his kids he kept talking about, he changed the subject.
He asked us our ideal vacation spots.  Stef threw out Ireland, and I threw out New Zealand.  He said Australia was the #1 vacation destination in the world, and that Ireland was the #2 destination in the world.  It was at this point we killed him.
Road Trip Bingo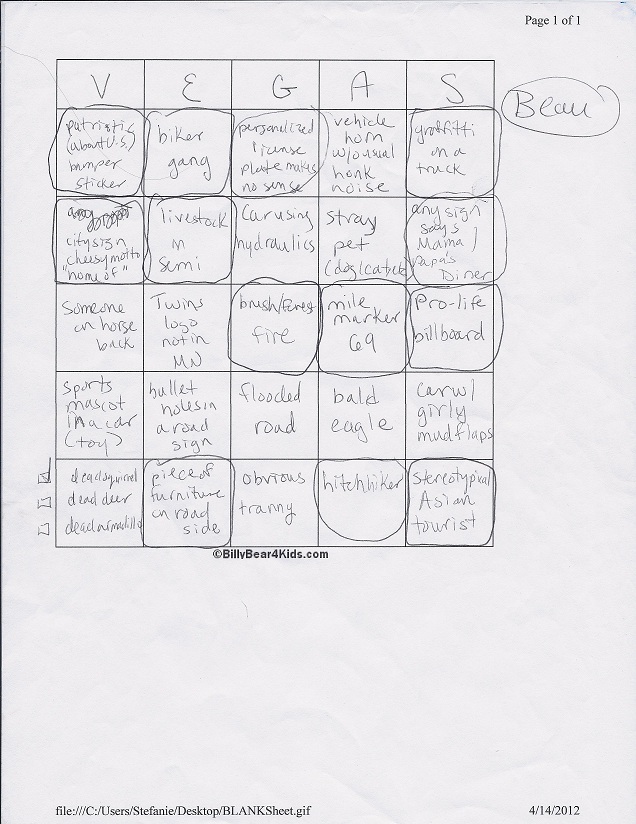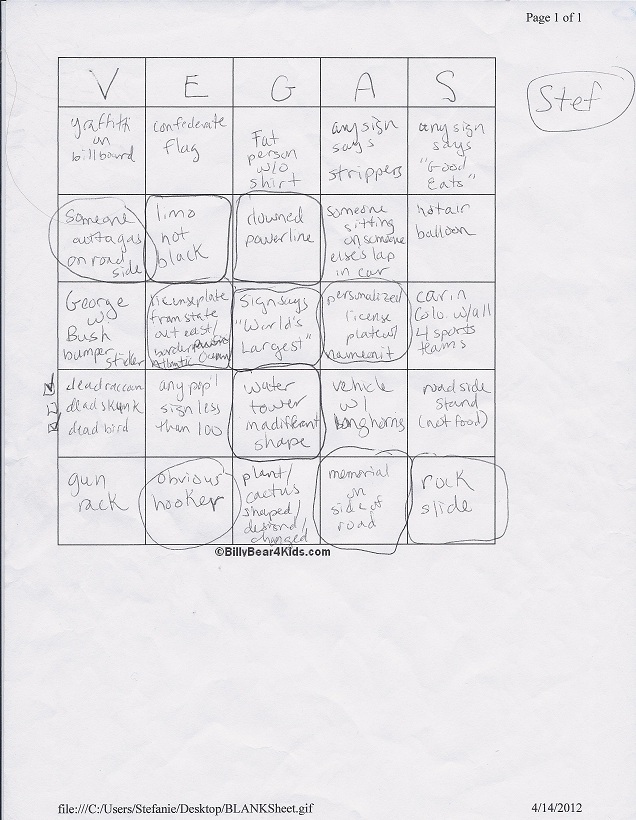 Believe it or not, it took until New Mexico to find a pro-life billboard.  There are five just on the way to Monticello from Minneapolis.
We didn't actually see an obvious hooker, but we went through Hooker, Oklahoma, so I gave it to her.
Finally, I was at the Royals/Blue Jays game on Saturday.  Stef took a picture and some dork behind me mugged for the camera as well.