I have just one problem with these cookies—I can't stop eating them.
1/2 cup unsalted butter, softened (1 stick)
1/4 cup (2.375 oz.) natural peanut butter, room temperature
1/2 cup (4 oz.) brown sugar, packed
1/4 cup (1.75 oz.) granulated sugar
1 large egg
2 teaspoons vanilla extract
1 1/3 cups (5.625 oz.) all-purpose flour [OR 2.5 oz. white whole wheat and the remainder all-purpose]
1 teaspoon cornstarch
1/2 teaspoon baking soda
generous 1/4 teaspoon salt [OR scant 1/2 teaspoon, depending on your preference]
1 generous cup mini pretzel twists
1 cup semi-sweet chocolate chips
Using a stand mixer (or sturdy electric hand mixer and a large bowl), cream butter, peanut butter, brown sugar, and granulated sugar, beating on medium speed for approximately 3 minutes, until light and fluffy. Scrape down sides of bowl. Add egg and vanilla and beat for 1 minute.
Add flour, cornstarch, baking soda, and salt while mixer is off. Start beating on slowest speed and gradually increase to medium. Beat until just combined and no more flour is visible, about 1 minute.
Add pretzels and chocolate chips, beating on low speed until combined. (This step will crush the pretzels.)
Slap some plastic wrap over the mixing bowl (or transfer to a smaller container with a lid) and refrigerate at least 1 hour and up to 24 hours.
When your chosen interval of time has passed, preheat oven to 350°F. Line cookie sheets with parchment paper.
Use a cookie scoop, spoon, or your hands to form dough into 1.5-inch mounds. Place about 2 inches apart on parchment-lined cookie sheets.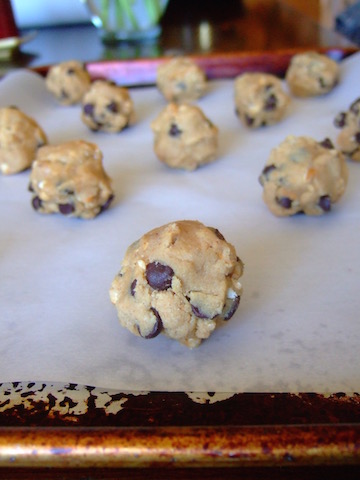 Bake for 10-12 minutes, rotating sheets on top and bottom racks halfway through. When done, the tops of the cookies should be barely set. Not to worry—they'll bake a bit more as they cool. The finished cookies will be fairly soft.
Let sit on cookie sheet for 5-10 minutes (these are too fragile to transfer just out of the oven), then transfer to a wire rack to cool completely.
Store in an airtight plastic container or ziplock bag for up to 1 week.
NOTES: If you're using peanut butter with salt, I'd probably go with the lower amount of salt. I had only light brown sugar on hand, but I definitely want to try to these cookies with dark brown sugar—this one in particular. The recipe makes about 2 dozen cookies, but it can be easily doubled. Recipe adapted from here.