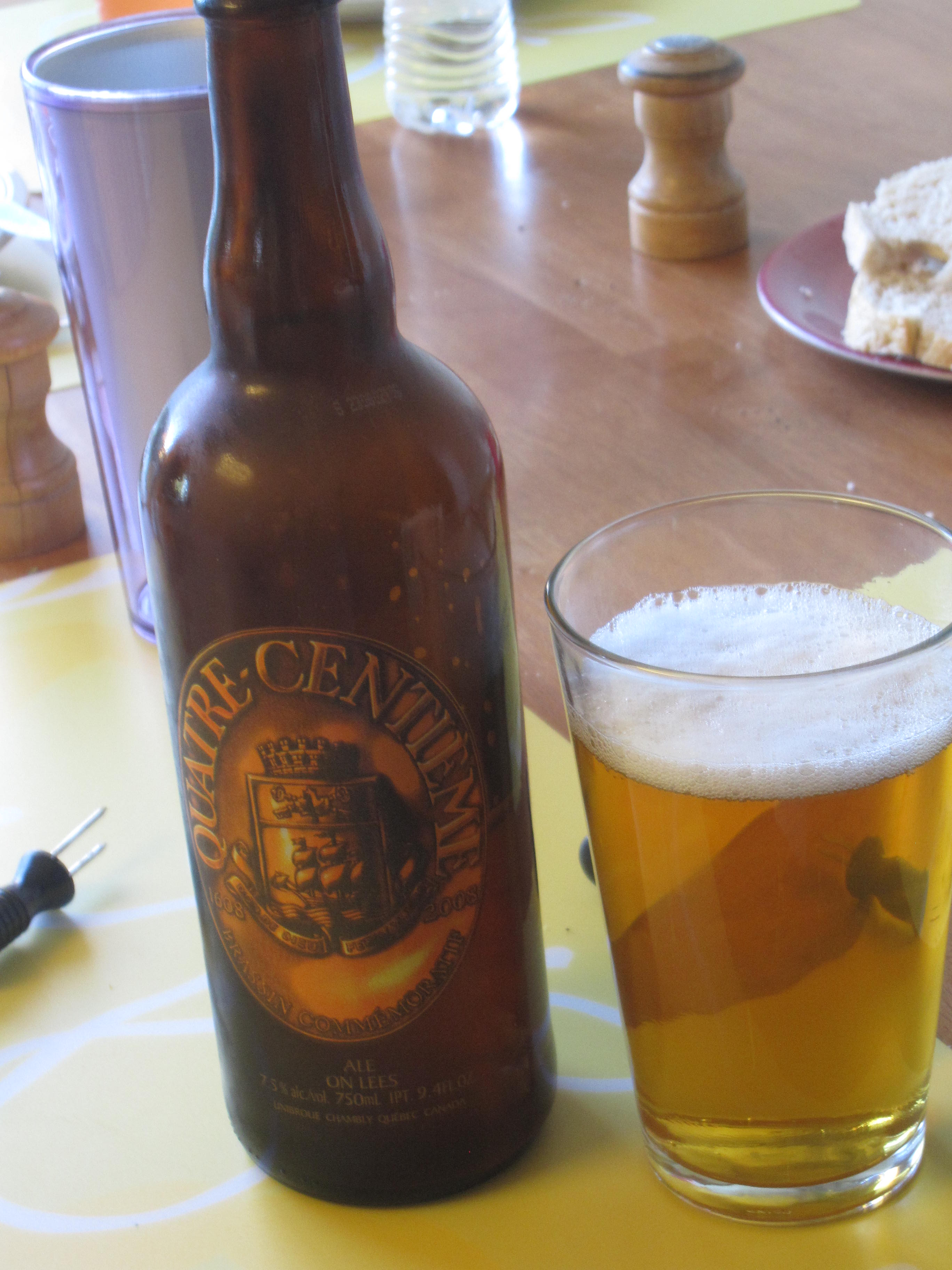 [note: I'd started this post yesterday, not anticipating that meat would bring the pork again today. Awesome. So go read or re-read that recipe, then come back here and fantasize with me about eating it while drinking this beer]
The family is scattering to the winds this week, with the Boy off to the Carleton Summer Writing Program, the Mrs. and the Girl heading to Nuevo Mexico, and li'l old me staying here to work my fingers to the bone for Gov'nor Brown. So saturday night I was treated to an early birthday dinner. And what a treat it was:
*the Boy grilled a tri-tip to perfection
*the Girl made a delicious pot of pinto beans
*the Mrs. made sauteed spinach and, for dessert, a fantastic blueberry-peach crisp.
and for double-dessert, I treated myself to a bomber of the Unibroue Quatre-Centième Brassin Commémoratif belgian-style strong pale ale. So sue me for using the wrong glass.
This is an interesting hybrid brew. It pours a beautiful golden straw color with an effervescent white head that settles down quickly, leaving little lacing. The mouthfeel is soft and light, beginning with a champagne-like bubbliness that slowly dissipates in the glass. The aroma is firmly Belgian -- like a dubbel, but with a heady (yet still light) undertone of bready, biscuity malt. One reviewer nailed the taste -- reminiscent of their world-class La Fin Du Monde, but toned down. You never notice its weighty 7.5 pct ABV.
The Quatre-Centieme, brewed originally to celebrate the 400th Anniversary of Quebec City, is the beer that proves that Unibroue is a truly great brewery, not by its greatness, but by its seeming ordinariness. To make my case is the Alström Bros themselves:
While Quatre is certainly not a bad beer, it simply smacks of past Unibroue beers and doesn't offer us anything unique--like the city it's supposed to be honoring. Fairly middle of the road, but Unibroue fans will no doubt want to give this one a try.
In other words, it's not world-class great like many of Unibroue's other products, so it is consigned to "meh". Seriously? No, this is a really, really good beer. It doesn't overwhelm the palate on any one dimension, it isn't way over the top, but instead is a delicious, drinkable, well-balanced Belgian ale. Most breweries would kill just to make a beer this good, but this one is snubbed as merely quaffable. Oy.
If you are curious about but unseasoned in Belgian ales, this would be a great place to start.