I've long adopted recipes from the region I've lived in, and have adapted the spices and flavors of that region with all the other places I've lived. Dr. Chop taught me how to cook, and taught me how to think about flavors on the fly combining bits of this with bits of that to make delicious dinners (most of the time...). No place has influenced my cooking more than New Orleans. Truth be told I was a bit nervous moving down here as emulsified meats and strange seafood weren't really a thing I considered appetizing. I jumped in with both feet and have been rewarded with some of the most simple yet complex flavors on the planet, and Gumbo is the tie that binds them all together. (Lots of people will tell you that you can't cook a good gumbo unless your grandma's grandma taught you how to do it, and I call bullshit on that. You got this. I believe in you. Just don't stop stirring.)
I've adapted this recipe from Donald Link's Fried Chicken and Gumbo recipe from his book Real Cajun.
1 1/4 C Veg Oil
1 1/2 C Flour
Medium onion diced small
3 celery stalks sliced
1 bell pepper diced small
(optional additional peppers such as a poblano and jalapeno diced (depends on how much heat you want, there'll be plenty spice later on)
1 medium sweet potato peeled and chopped
3 cloves garlic minced
1 tablespoon salt
1 1/2 teaspoon ground black pepper
1 teaspoon cayenne pepper
1 1/2 teaspoon chili powder
1 teaspoon ground white pepper
1 teaspoon paprika
1 1/2 teaspoon filé powder
3 quarts chicken broth brought to a simmer
1 pound (or more...) smoked andouille* sausage sliced into 1/2 inch moons
Half a rotisserie chicken picked but kept in large pieces
optional 3 cups sliced okra ( if you use the okra cook it down in a separate pan before adding it to you gumbo. You'll actually cook the snot out of the veg which leaves a much, much more palatable finished product.)
*The Best Stop is indeed the best stop for cajun meats in south louisiana. Yup, I know thems fighting words, but hey, the wouldn't call it the best stop if it weren't They ship everywhere, and it's worth it. I made gumbo last night with some inferior andouille and it was lacking something je ne sais quoi.
Method
Chop everything first. Once you begin to heat the oil you'll not have time to do anything but stir the flour, so prep ahead. This isn't a fast recipe, and while I do this on school nights all the time it's not recommended for those with kids or a desire to eat before 9 pm. Put the chopped veg into a bowl to be kept by the stove top. Next, measure out the spices into a bowl to be kept handy next to the stove top. Measure out the flour into another bowl to be kept handy next to the stove top. Heat the oil over medium high heat in a cast iron pot or dutch oven, and when a pinch of flour sizzles it's time to get your roux on. Gently, and carefully, add the flour to the pan stirring constantly with a whisk.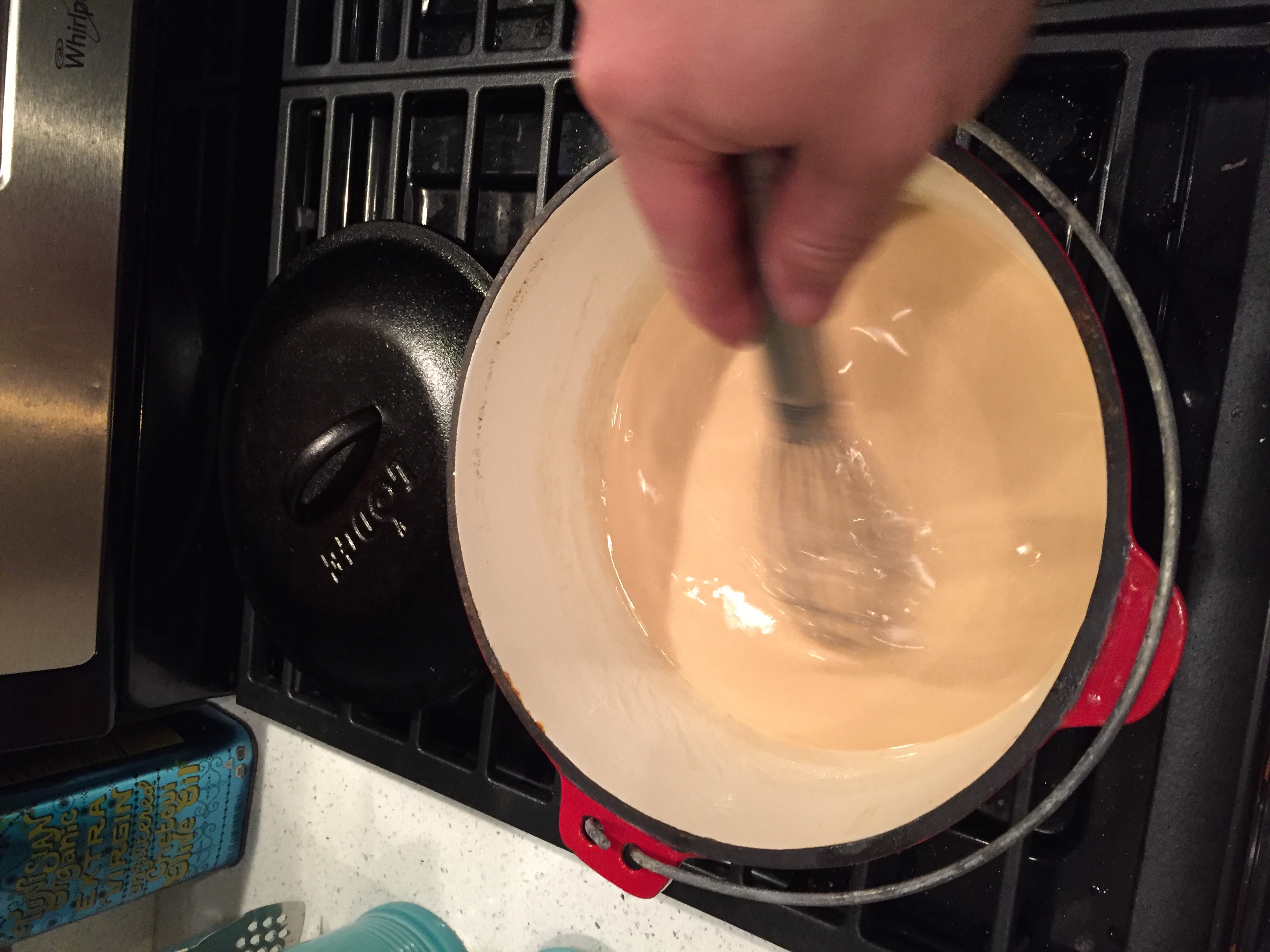 They call roux cajun napalm for a reason, and stirring with a spoon will splash the roux out of the pot and burn the shit out of whatever it lands on. (Roux is a combustible liquid, and will ignite if overheated... no kidding) Using a whisk, continue  to stir the roux over medium to medium high heat, and as the roux begins to color gradually lower the temp. This will increase cooking time slightly, but will allow you far more control and lowers the chance of burning the roux. Stir all portions of the pan as a single bit of stuck flour will burn and foul the whole pot. Depth of color is totally a personal choice, but real cajun cooks say that the finished product should be darker than a moonless night. I have a different approach, I cut the roux off in between milk and dark chocolate as the flour will continue to cook when you add the veg.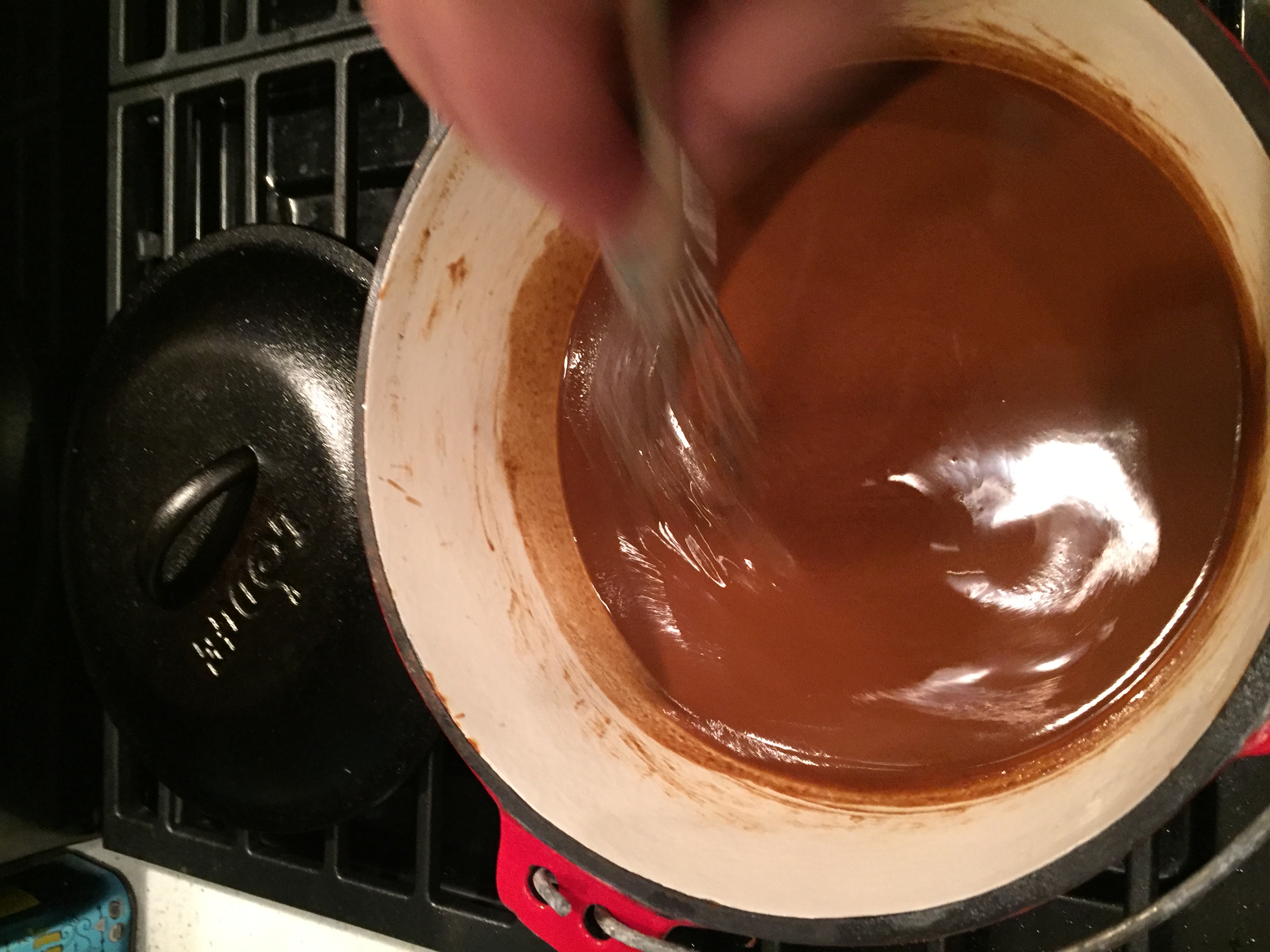 Add the veg and spice mix to the roux, but be careful as a burst of steam will escape. Now switch to a flat bottom spoon to stir. Cook the veg until the onion wilts and the peppers soften. Stir this often as you can still burn the roux.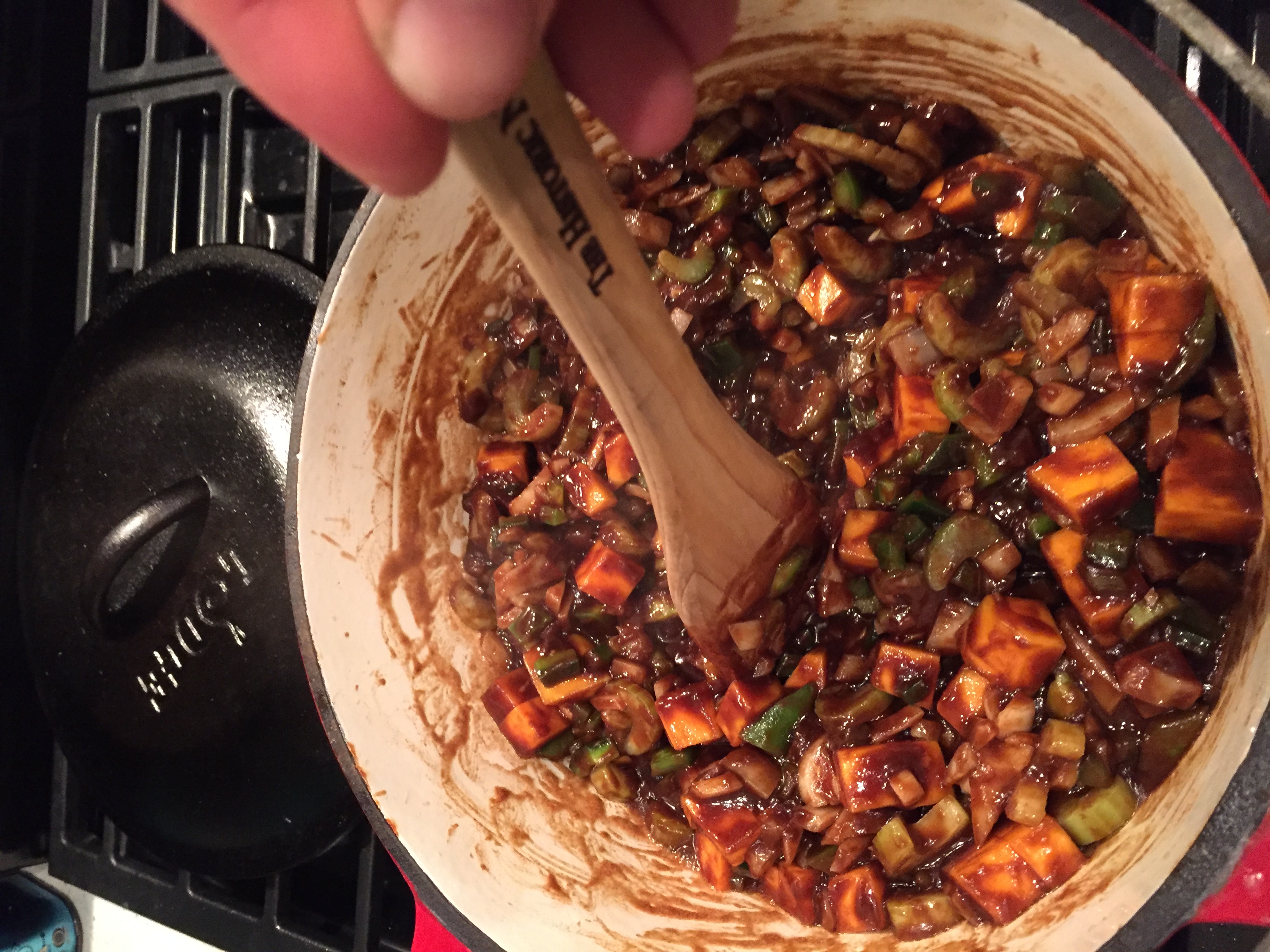 Add the heated stock to the pan and bring the whole mess to a boil. Adding cold stock will break the roux, not the end of the world, but a lot more stirring, and you've already stirred enough for one night.
Brown sausage in a separate pan, and add to the gumbo pot.
Simmer for 30-40 minutes and add the chicken pieces. You'll notice a lot of oil coming to the surface. Skim this oil off and discard. Stir occasionally, and put a pot of rice on the stove. When the rice is done the gumbo is done.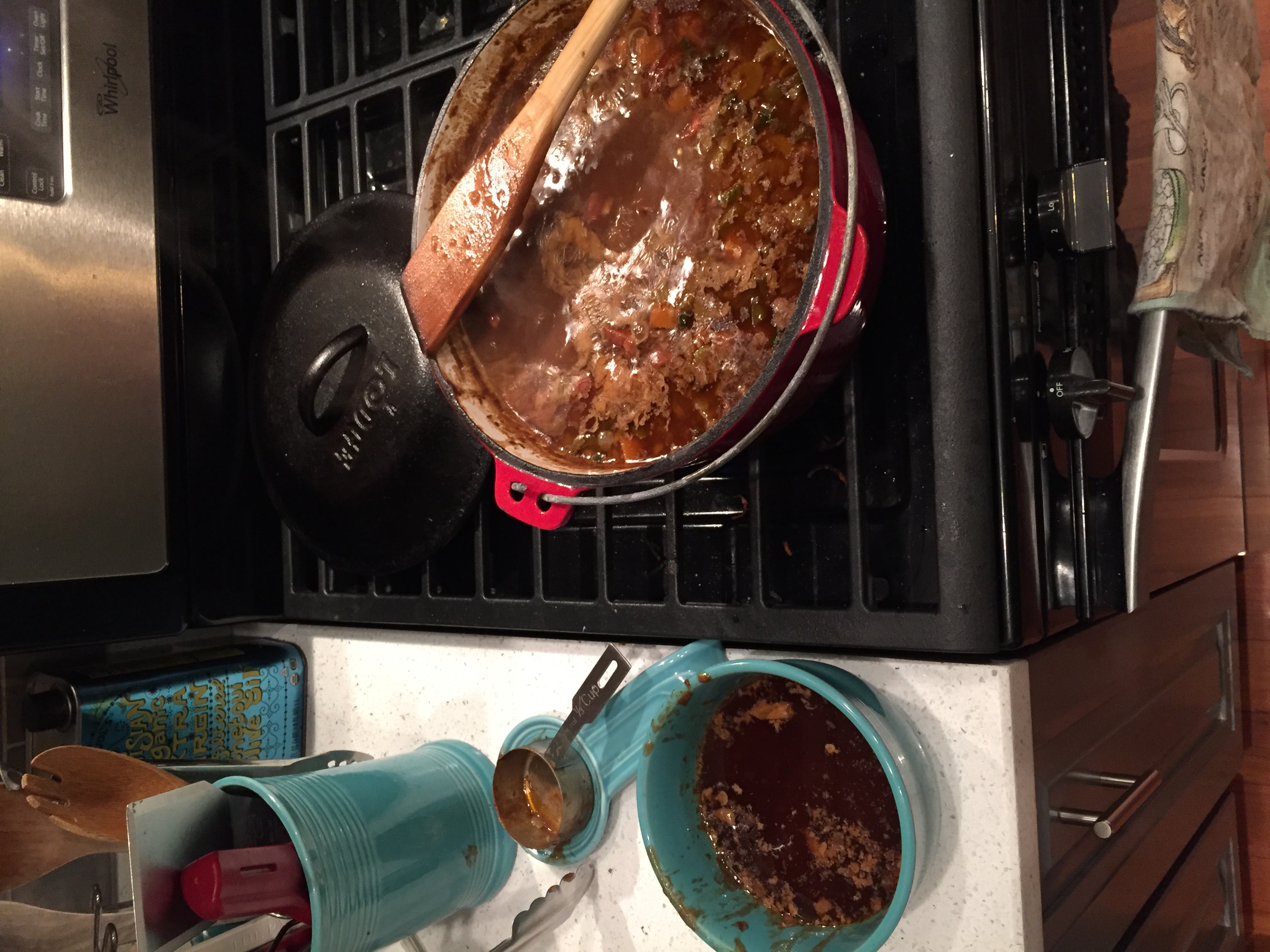 So, I can't flip the photos, but really they're just here for color comparison.