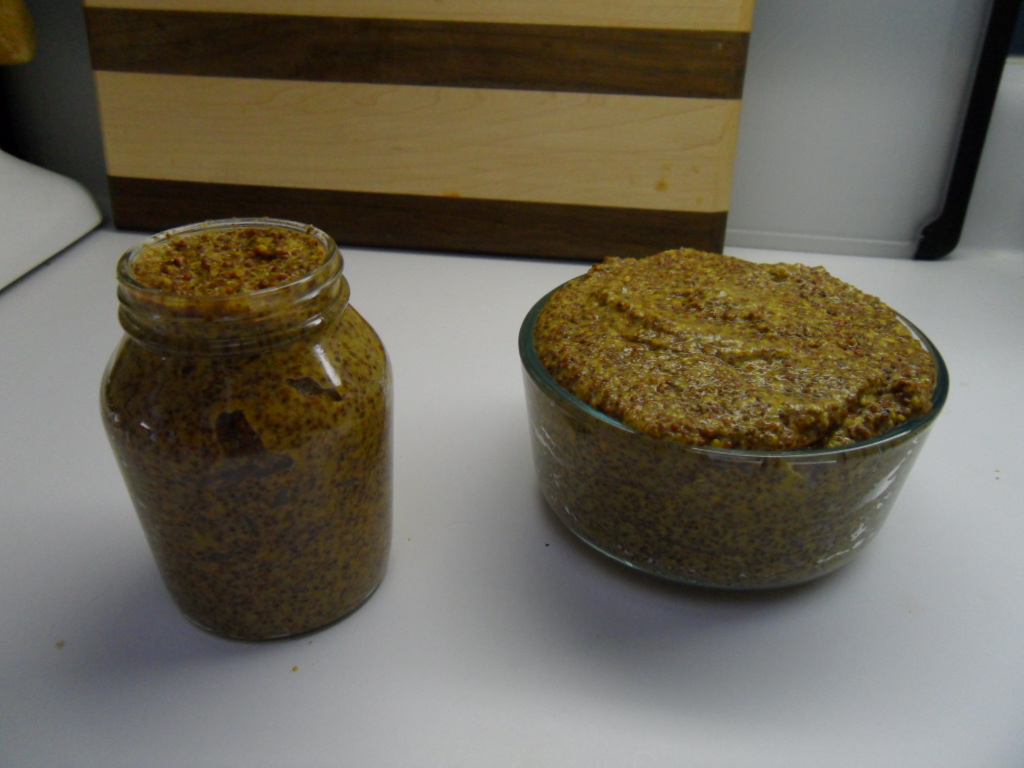 Crafting a delicious homemade mustard is marginally more involved than making pancakes from store-bought mix (if you must). The basic ingredients are simple - mustard seed and cool liquid. What you do with it after that is really up to your personal preference. But we'll get to modifications in a minute.
To make a basic, go-to mustard for service atop some toothsome encased meats, roasts, chicken, chops, in marinades, vinaigrettes, or in sauces, I use brown Canadian mustard seeds from a local spice purveyor. I'd suggest buying bags of seed instead of spice bottles because you're going to go through 5-10 oz of seed depending on how much mustard you're interested in making.
To make this mustard, you will need the following: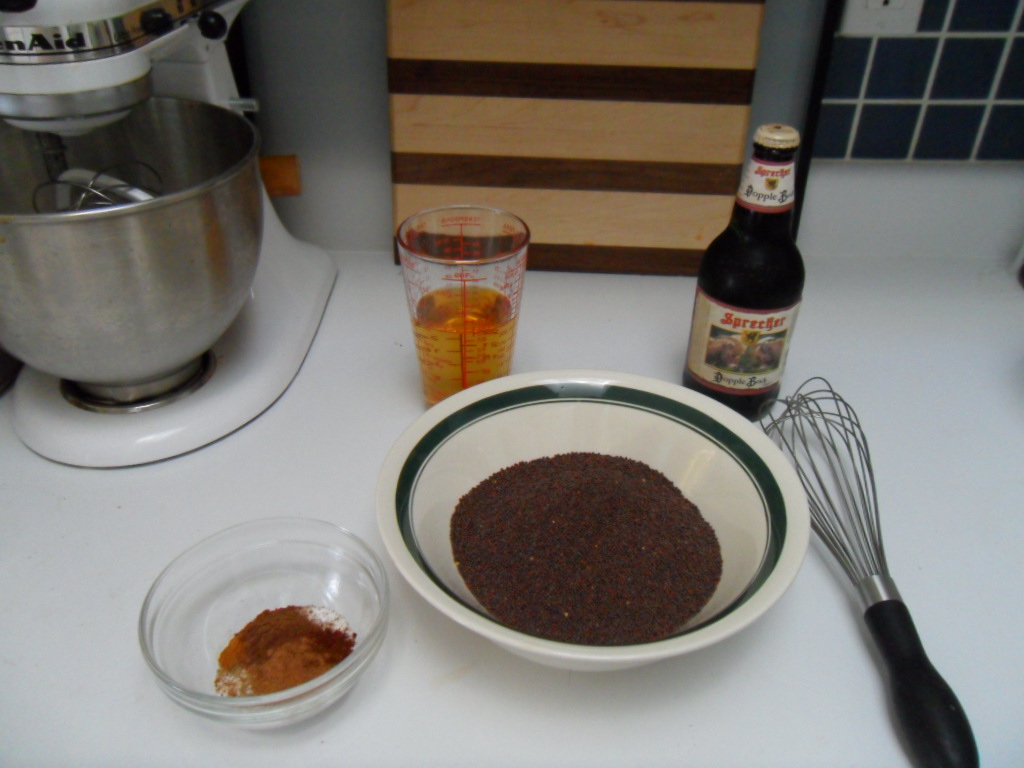 3/4 cup brown mustard seeds (about 5 oz by weight)
1/2 cup red wine or apple cider vinegar
1/2 Tbsp. kosher salt
1/2 tsp freshly ground black pepper
1/8 tsp ground cinnamon
1/8 tsp ground cloves
1/8 tsp ground nutmeg
1/8 tsp ground allspice
plus 6 oz of beer, your preference (I've used this and this with equal success, but something lighter would work, too. I'd stick to maltier beers, though.)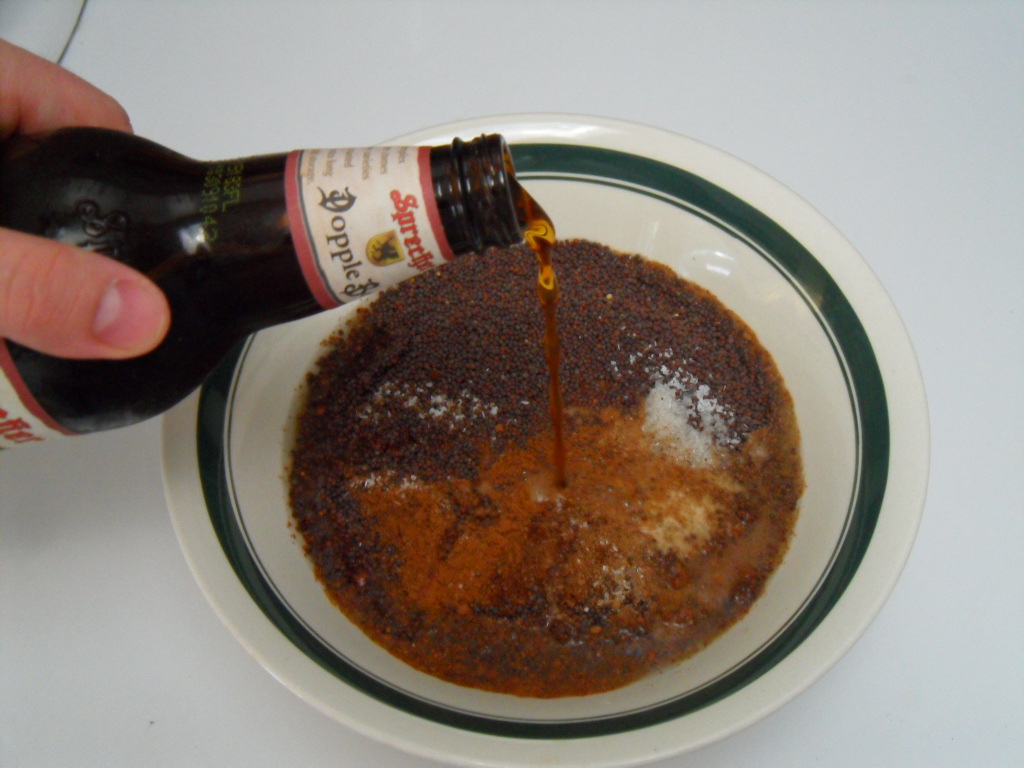 Combine the dry ingredients in a ceramic or glass bowl (metal is reactive, and plastic is gross). Pour the beer over the spices slowly, then stir with a whisk just enough to make sure you don't have any dry pockets or clumps. Let the mixture stand for about ten minutes, then add the vinegar. Cover the bowl with plastic wrap and let it sit out on the counter, at room temperature, for a couple of days. You're going to be looking for the liquid to soften the mustard seeds. Don't worry about the foam.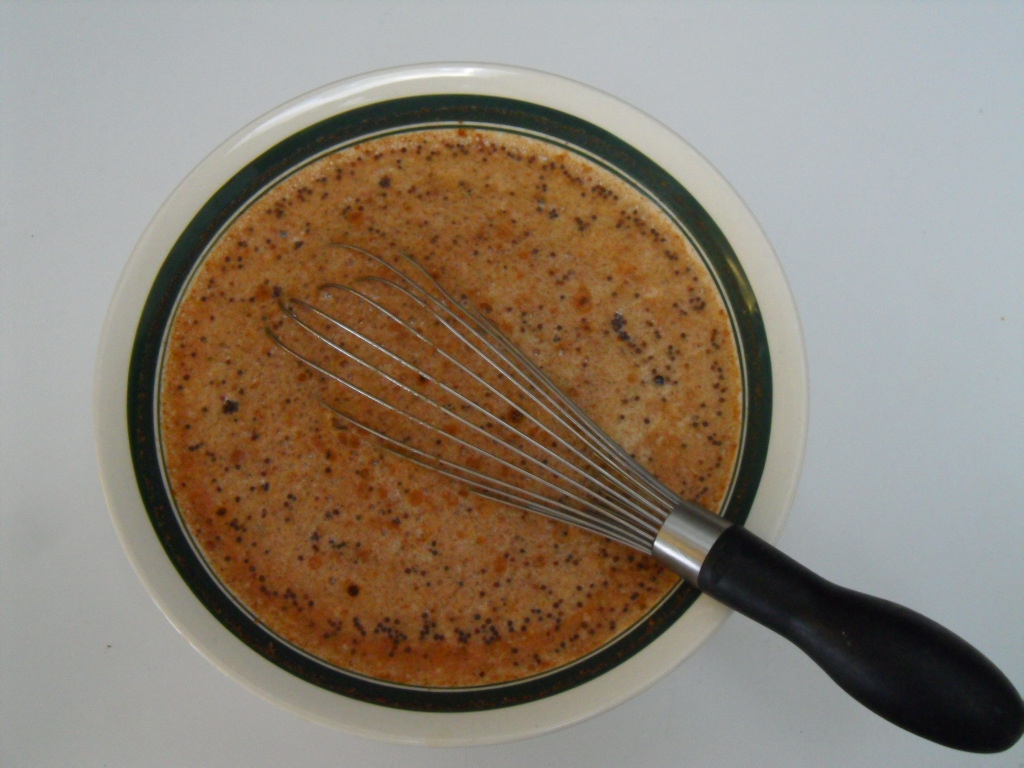 Drink the remaining beer in the bottle. Have another, just in case.
After a couple days have passed and your mustard seeds have softened, place the contents of the bowl into a food processor and blitz it, occasionally scraping the sides of the bowl to ensure an even finished product. Once the mixture has emulsified however long you process it will depend on how grainy or smooth you want the final product.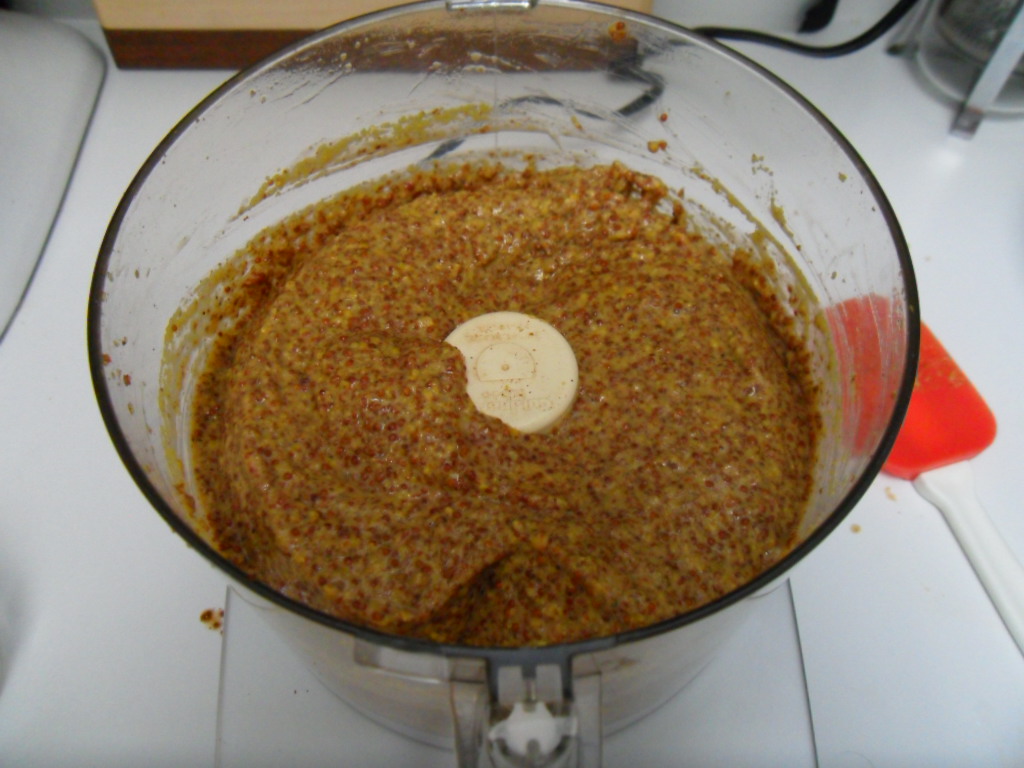 That's it. You have mustard. You're not going to want to eat it right away - it'll taste a little bitter. Give it a day or two. A note to meat and anyone else who wants to use it right away: it will be very potent, so go easy on slathering it on a roast until you've sampled it on a brat or sandwich first. I'm serious, you'll rediscover your nostril hairs the first couple days you try it. Over time the mustard will mellow and the flavors will change, with different notes coming out as it ages. It will keep in the fridge for at least six months (mine has lasted a year, but use your judgment). Store it in a glass container to prevent any contamination from plastic.
Now, additions. What I'd suggest is setting aside a little of your larger batch for experimentation. Or double this recipe, which is what I do. You can add just about anything to mustard. Germans like to make a sweet mustard with sugar (brown sugar is especially delicious). Obviously you know about honey mustard. Italians like to put fruit preserves in their mustard, which would be luscious as a marinade on pork (ahem). Adding turmeric will turn your mustard yellow. Herbs are fair game, as are chiles or horseradish if you need more heat. Cut back on the regular vinegar in favor of some balsamic if you'd like a little extra depth and sweetness. The combinations are legion.
Now if you'll excuse me, I'm going to go slather some on bread with liverwurst.