Nearly every player on the ballot lost ground from the previous month, some by considerable margins. In fact, the electorate has pretty consistently gone back and forth and if I was a betting man, I'd say next month most players will see a bump. I can think of two reasons this could be the case.
1. Big Name Effect. When someone like Cy Young appears on the ballot who is a no doubter, he can make other pitchers not look that amazing. I believe this happens with the real Hall, but they have a silly vote limit, so it makes sense statistically as well.
2. Inconsistent electorate. It could simply be that some big-hall voters don't show up every month, and some small-hall voters don't show up every month. I'm too lazy to actually look at the stats.
It's probably a combination of both. What I do know is that we had 20 voters this month, so it took 15 YES votes for an election. Let's honor those who bribed enough voters.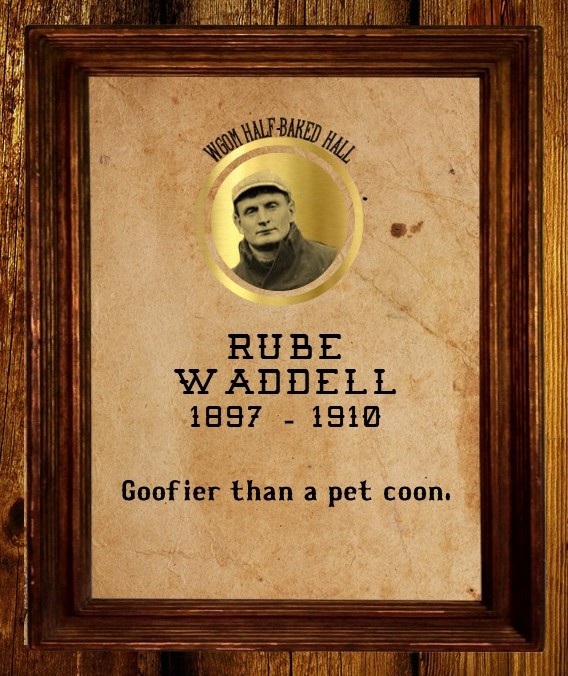 Rube Waddell may have had a development disability and severe mental illness, but he also now has a plaque at the Half-Baked Hall and the support of 85% of the Citizens. Who could ask for more?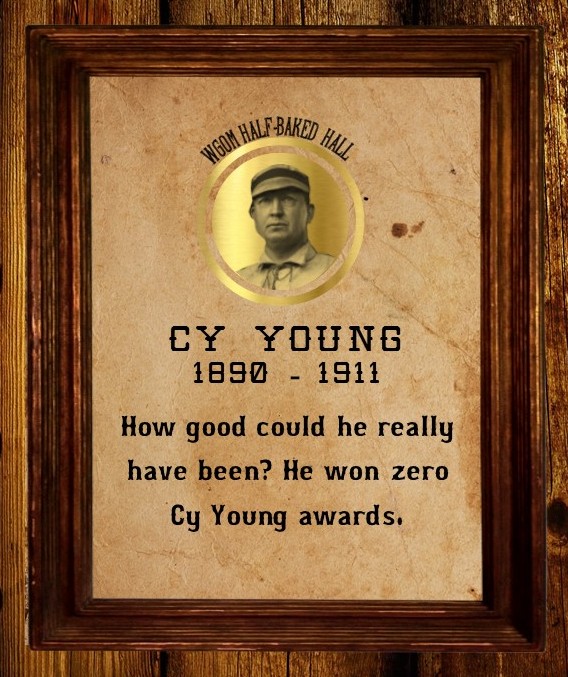 Despite his lackluster resume, Cy Young managed to get 95% of the vote. How long will he hold this record?
Remaining on the Ballot (16 Players)
Joe McGinnity, who was oh-so-close to being elected on his first ballot, absolutely plummets all the way to 50%. Bill Dahlen and Wee Willie Keeler make impressive showings, with Addie Joss not far behind. A lot of people see just enough in Jesse Tannehill to let him stick around another month despite just getting one firm YES vote.
Players in italics will be on their final ballot next go round. And that one player this time around will be Buck Ewing.
John McGraw: 70% +2
Bill Dahlen: 65%
Willie Keeler: 65%
Addie Joss: 60%
Amos Rusie: 60% -13
Jesse Burkett: 55% -9
Joe McGinnity: 50% -23
Buck Ewing: 35% -6
Jim O'Rourke: 35% -1
Jimmy Collins: 35% +3
Vic Willis: 35%
Jake Beckley: 30% -11
Joe Kelley: 30% +16
Elmer Flick: 20%
Jack Chesbro: 20% +6
Jesse Tannehill: 5%
Falling off the Ballot (14 Players)
Comiskey consistently had two-fifths of the electorate wanting him in due to his efforts off the diamond. I honestly haven't added any other players elected to the Hall unless they also had some good playing statistic as it appears the electorate wants to focus on players at this point. Perhaps when we get caught up, we can talk about having a special ballot for pioneers.
Monte Ward and Pete Browning were on their final ballots, and their dying gasps are pretty pathetic. Browning would have fallen off regardless. Otherwise, we lost two players on their third ballot in Thompson and Duffy.
Topsy Hartsel got one vote, presumably because of his name. And Harry Steinfeldt, the third baseman next to Tinker, Evers, and Chance, gets one vote as well.
Charlie Comiskey: 40% -1
Monte Ward: 25% -20
Pete Browning: 15% -26
Sam Thompson: 10% -8
Ginger Beaumont: 5%
Hugh Duffy: 5% -13
Topsy Hartsel: 5%
Deacon Phillippe: 5%
Harry Steinfeldt: 5%
Fred Tenney: 5%
Harry Howell: 0%
Sam Leever: 0%
Freddy Parent: 0%
Roy Thomas: 0%