Games this week:
This upcoming weekend will be packed with hockey.  A couple of back-to-backs for both the Whitecaps and Wild. The Whitecaps get another shot at the Pride, who swept the weekend series two weeks ago in Boston, but this time the games are on home ice. Meanwhile the Wild face the Panthers, who are very very good, and the defending Cup champion Lightning.  Not an easy weekend for anyone.
But first! The return of Ryan Suter! Thursday night the struggling Stars come to Minnesota and I'm sure there will be a whole bunch of pontificating about Suter and the buyouts and everything that went down this summer.
But even firster! The Sharks. Tonight.
Games Last Week:
Wild Game 12 - Arizona is remarkably poor this season. It's hard to imagine seeing an NHL team play a full game looking like they are on the penalty kill. Kaprizov, Ek, and Fiala all scored, which is what you want to see. But playing against the Coyotes makes it hard to draw any real conclusions from it.

Confidence builder for Kahkonen?  He seemed to be playing OK and earned his second straight victory.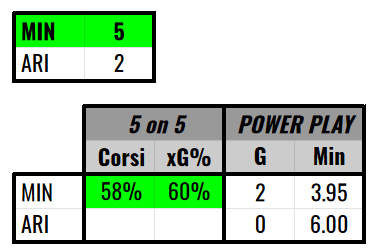 Highlights
Game Stats
Wild Game 13: This one was ... unexpected. The Wild were playing well, the Knights were missing half their roster and starting their backup goalie.  The Wild refused to play hockey and just ... kind of ... lost. They tried to come back in the third, I guess.

The 5-on-3 power play for the Wild at the end of the second period was truly difficult to watch. The Wild were down 2-0, were gifted a full 2 minutes of 5-on-3 after a couple delay of game penalties and then they did almost nothing with it.  One centering pass to Eriksson Ek as the penalties expired and then they gave up the third Vegas goal a minute or two later and I gave up on  the game.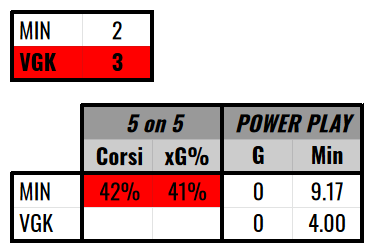 Highlights
Game Stats
Wild Game 14: The Wild benefited from bad opposition goaltending and buried the Kraken deep enough that they couldn't come back in this one.  Grubauer's awful start is really weird, but Minnesota got 2 points out of it and discovered the Rem Pitlick-Ryan Hartman connection.

Congrats to Pitlick for his first NHL goal and first NHL hat trick on the same night.  That was really cool.

Nico Sturm got an empty net goal.  What a guy.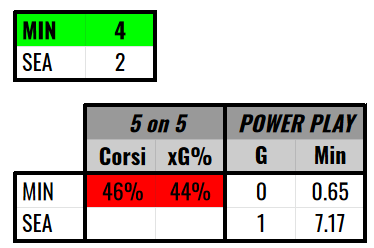 Highlights
Game Stats
Notes
Ryan Hartman is leading the team in goals and points. He has been great in every role he's been assigned so far this season.  He's outscoring his expected goals by a fair amount, and has a healthy 15% shooting percentage.  I'd be surprised if he keeps up the 40-goal pace for any amount of time, his career shooting percentage is around 9%, but even if he returns to Earth a little bit on the shooting side, he's going to have a really good year. His career highs in goals (19) and points (31) may be reset.
Dean Evason has finally coached a regular season's worth of games as Wild head coach.  That's kind of weird to think about, since it seems like he's been around a while, but  the Seattle game was career game #82.  He's got a 53-24-5 record, good for 111 points in those 82.  That's really good.
Standings and Stats
The Wild are still in first place in the Central and are starting to see big increases in their playoff probabilities already. It's been a good start. This division feels like it's still going to be a muddle right around the "make the playoffs" line, but at least the Wild are on top of that pile right now.
| CENTRAL | Games | Pts | PTS% | EV xG% | EV Corsi | EV Sh% | EV Sv% | PPG/60 | PKGA/60 |
| --- | --- | --- | --- | --- | --- | --- | --- | --- | --- |
| MINNESOTA | 14 | 20 | 63% | 56% | 54% | 8.3% | 91% | 6.8 | 7.5 |
| ST LOUIS | 14 | 18 | 58% | 49% | 49% | 8.2% | 93% | 12.7 | 5.3 |
| WINNIPEG | 14 | 19 | 58% | 53% | 53% | 8.9% | 94% | 8.7 | 12.4 |
| NASHVILLE | 15 | 19 | 56% | 51% | 49% | 8.4% | 94% | 10.2 | 7.2 |
| COLORADO | 12 | 13 | 43% | 54% | 51% | 8.5% | 91% | 5.3 | 5.8 |
| DALLAS | 13 | 12 | 43% | 52% | 49% | 5.3% | 93% | 11.5 | 9.1 |
| CHICAGO | 15 | 10 | 29% | 41% | 44% | 5.5% | 89% | 7.0 | 4.2 |
| ARIZONA | 15 | 3 | 10% | 46% | 46% | 5.9% | 90% | 4.1 | 13.3 |
| SKATERS | GOALS | ASSISTS | POINTS | xGAR |
| --- | --- | --- | --- | --- |
| Kaprizov | 3 | 8 | 11 | -0.6 |
| Hartman | 7 | 4 | 11 | 5.6 |
| Foligno | 5 | 5 | 10 | 0.5 |
| Dumba | 2 | 7 | 9 | 0.1 |
| Zuccarello | 3 | 6 | 9 | 3.6 |
| Spurgeon | 3 | 5 | 8 | 4.4 |
| Fiala | 2 | 6 | 8 | -0.2 |
| Eriksson Ek | 5 | 2 | 7 | 0.8 |
| Brodin | 2 | 4 | 6 | 0.9 |
| Kulikov | 1 | 5 | 6 | 1.6 |
| Goligoski | 0 | 6 | 6 | 0.4 |
| Merrill | 1 | 5 | 6 | -0.3 |
| Pitlick | 3 | 2 | 5 | 0.7 |
| Sturm | 3 | 2 | 5 | 2.2 |
| Duhaime | 2 | 3 | 5 | -0.4 |
| Gaudreau | 1 | 4 | 5 | 1.1 |
| Bjugstad | 2 | 0 | 2 | 0.4 |
| Greenway | 0 | 2 | 2 | -2.0 |
| Rask | 1 | 0 | 1 | 0.1 |