The Top 100 NES Countdown will be over before the next PPM column.  Today's game at #22 is R.C. Pro-Am.
Release Date: September, 1987
Platform: NES
Developer: TRY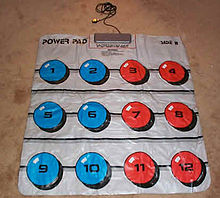 I think my parents fell for the marketing ploy that the power pad would give us a reason to exercise while playing the Nintendo.  We got one game for the terribly expensive pad, and that was World Class Track Meet.  It's not a terribly good game, and it did not make my list of best one-hundred NES games.  But we played it quite a bit, especially when we wanted to get our "exercise" in without going outside.
The game has several track events which start off fairly easy and get increasingly difficult as you face tougher opponents.  The idea is that you basically run on the pad, and jump if the game calls for it (e.g. with the long jump or triple jump).  It didn't take us very long that there were ways to easily cheat the game.  One could jump off the pad, then jump back on after insanely long jumps.  And getting on your knees and hitting the pad with your hands could speed things up.  Of course, if the game were awesome in its own right, finding ways to cheat it wouldn't have been at the forefront.  But the game is so limited, as are the uses for the power pad, that there's little reason to use it for exercise or any other reason.
I still haven't played any new games of note recently.  What's keeping you busy this past month or so?