Two home games in a row!  Maybe this will be what the Wild need to start playing better hockey?  One certainly hopes so.
The Canadiens are fresh off a thoroughly dominating performance against the Wild in Montreal where they won 4-0 and crushed the Wild on scoring chances, shots on goal, and just hockey in general.  Boudreau started Stalock in that one, but I'm very doubtful that he's going to be the answer.
If we learned anything over the 3-game Canada trip, it's that the Wild are maybe a little better than the worst teams in the league (Ottawa), but really just can't hang with the good teams (at least for now).
I said in my first Whangdoodle of the year that the Wild need to weather the first 30 games where they will spend so much time on the road:
The schedule is brutal, but if the Wild are around 12-15 wins after that first 30 game stretch, they get a ton of home games over December, January and February (23 home games compared to 9 road games) and they may be able to make some hay there.
So far they are 1-5 on the road and 0-1 at home.  In order to truly say they "weathered" this first bit, they need to start winning some of these home games and figure out a way to steal some on the road.
I'm getting skeptical that this is a reasonable hope.  The HockeyStats that started the year maybe suggesting that the Wild were unlucky have started to stabilize around a different story (from MoneyPuck).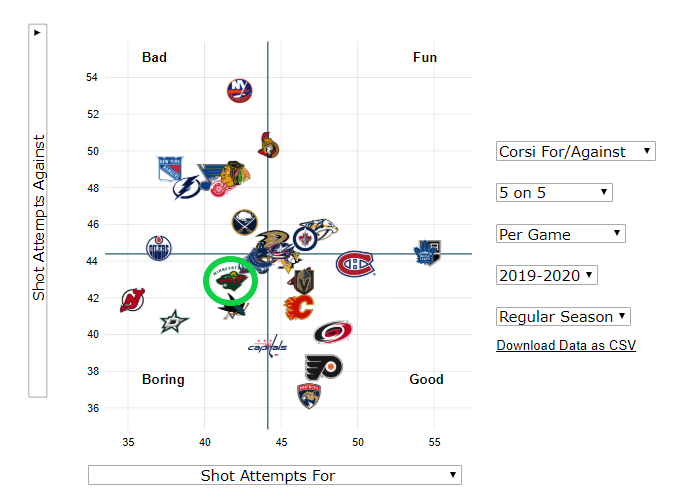 Welcome to the bad and boring quadrant.  If you choose expected goals instead of CORSI, the picture looks pretty much the same. The Wild haven't been lucky, but they also haven't been good.