I made these two dishes over the last week, and they both ended up being really, really good.  Plus, they even go well together; I'm planning on having the leftovers from these two for my lunch tomorrow.  And I'm sure these recipes would be doable without the technological marvel that is an Instant Pot, but this is how I made them.  Plus, it gave me another reason to use the steam diverter my wife got for Christmas, which my kids call "angry daddy."  It looks pretty funny when it goes off, plus it makes it easy to turn the release valve without using a hot pad.
Chicken Tacos
(taken from here, with some small changes)
I had some leftover poblano peppers when I found this recipe, and thought I'd give it a shot.  It ended up with a bit more liquid in it than I would have preferred for tacos, but the chicken was tasty, and not at all dried out.  I'll probably try less liquid next time.  I was also worried beforehand that it would taste too much like orange juice,  but it ended up just having a hint of orange flavor.
2 tablespoons olive oil
2 large chicken breasts (about 3 pounds)
1.5 tablespoons Kosher Salt
1 teaspoons Pepper
1  red onion, peeled and thinly sliced
2 Poblanos, diced
5 cloves garlic, minced
2 tablespoons cumin
1.5 cups chicken stock
1.5  cups orange juice
Set Instant Pot to sauté mode, and add a little oil.  Season chicken on all sides with salt and pepper.  When oil is hot, work in batches to sear chicken on both sides, leaving it alone for long enough to get a nice brown on it (not sure this step actually did much; could probably skip it, but I could get the chopping done while the chicken was in, so it probably didn't add that much time).  Remove to a plate when they are done browning.
Add 2 tablespoons of olive oil, then add peppers and onions.  Cook 5 minutes or so, until tender.  Then, add cumin and garlic, stirring for about a minute until fragrant.  Add back in the chicken along with the stock and orange juice.
Seal up the cover, and set for 35 minutes.  When timer goes off, wait 5 minutes, then release steam.  Remove the chicken, shred it, then stir it back in to the sauce.  Serve on lightly-charred corn tortillas with lime, cilantro, cheese, guacamole, hot sauce, etc.
I didn't think of writing this up until after dinner, so I didn't take a picture of the tacos, but here's what part of the leftovers looked like: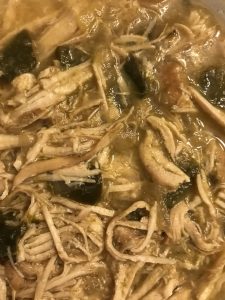 Black Beans
(taken from here, with some adjustments)
So those chicken tacos were good, but these black beans are great.  Everyone it the family loved them.  Both of my kids ate  multiple rounds at dinner, and one said they are his favorite beans ever (which is saying something from a kid who could probably eat an entire can of refried beans by himself).  They end up tasting rich and salty, with the creamy liquid pairing with the just-slightly-al-dente beans to make a perfect texture combination.  Plus, it's super cheap and easy, and no soak required.
This is the recipe for half the original batch on the website above, which still makes a lot of beans.  They save well in the fridge, but a full pound of beans is more than we can get through in a week.
0.5 pound dry black beans
1.5 cups water
0.5 yellow onion, sliced in rounds
2 garlic cloves, sliced in half
0.5 teaspoon cumin
1 teaspoon salt
1 bay leaf
1 teaspoon worcestershire sauce
Put everything in the Instant Pot.  Seal the lid, and set if for 30 minutes. (The recipe I took this from called for only 22 minutes, but the beans were still pretty crunchy at that point, so I kept adding time and testing it, and it ended up being about 30 total.)  Let it sit for 10 minutes when the time is up, then release the steam and serve.
These beans are great on their own or with some hot sauce.  Sour cream would make some sense here, too.  They work as a side for grilled meat or tacos, as a vegetarian burrito filling,  or just on their own; a bowl of these beans makes for a pretty great lunch.
I also didn't take a picture of this when I made it, but it still looks pretty good after a couple of days in the fridge.