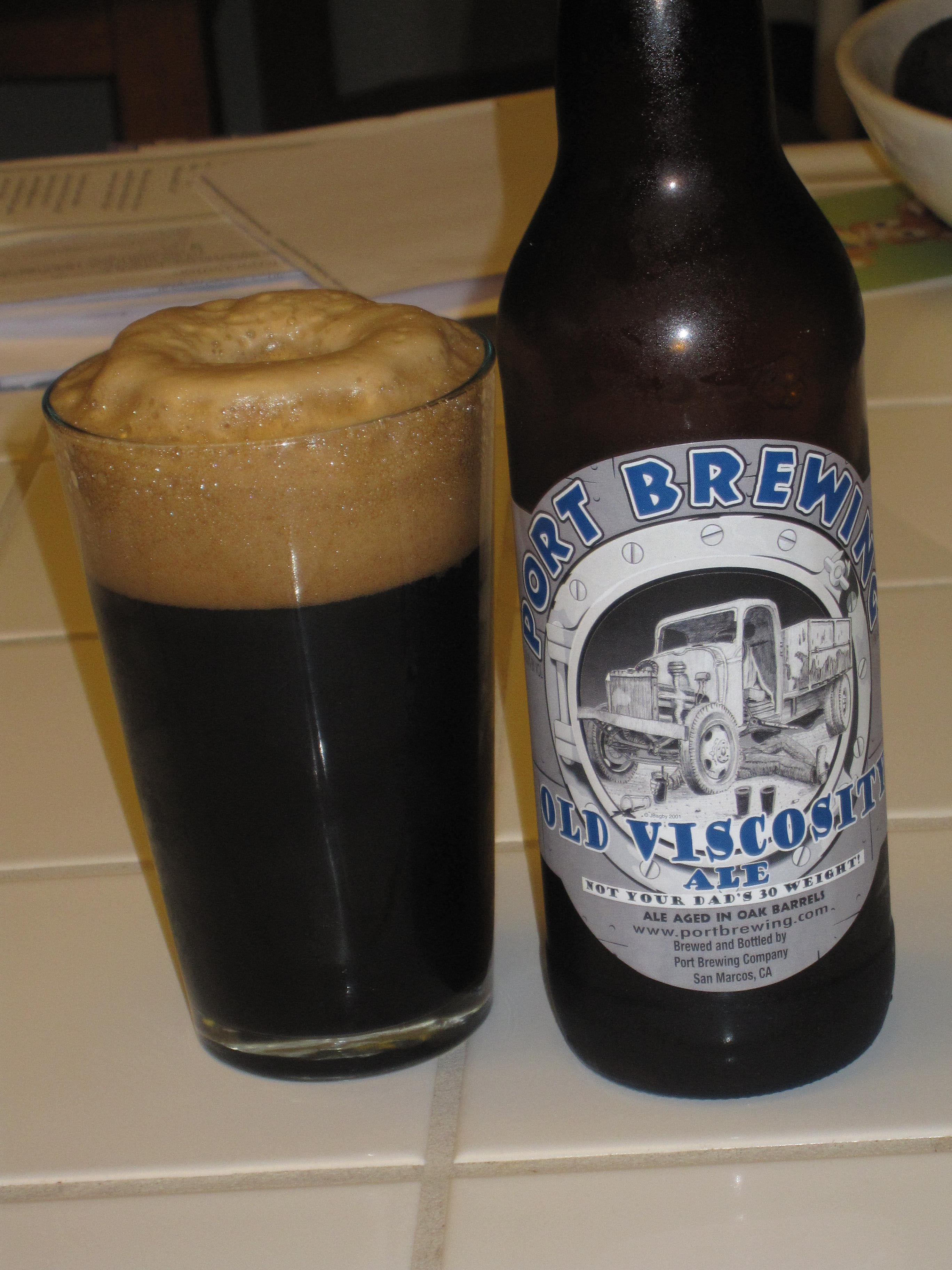 It's after noon, so I think it is safe to talk about beer on a sunday. 'specially since it is my birfday.
I bought this bad boy at a Bevmo in Vacaville last weekend, on the way home from Oakland, where the Boy got himself a fancy-dancy trombone as his graduation present. Said trombone got a nice workout on Friday at the local pizzeria when his jazz quintet played a gig, in return for pizza and tips. The crowd consisted mostly of parents of the quint, plus a table-full of their friends, but we had a great time, and the pizzeria did a nice chunk of extra business.
This was my early present to myself, after a tasty dinner of baked beans, roasted chiles, and BBQ'd beef ribs. Mmm, dinosaur bones! Hard to resist when they are only a couple of bucks per pound and pretty meaty. I gave them a nice rub, let them stand for an hour, then smoked (indirect heat) for ~45 minutes over hickory chips and charcoal, finishing with just a couple of minutes on direct heat to crisp up the undersides. Fatty, smokey deliciousness.
And this was dessert. Port Brewing is the extension of the venerable and venerated Pizza Port. If you are ever in the San Diego area, I highly recommend a trip to the mothership in Solano Beach (although they now have locations in Ocean Beach, Carlsbad, and San Clemente as well). Excellent pizza, and a bitchin' beer selection. Each location has its own lineup.
Port Brewing was spun off in 2006, locating in Stone Brewing's former facilities. Named Small Brewery of the Year at the 2007 GABF, and Champion Small Brewery at the 2008 World Beer Cup, these guys know what they are doing.
The Old Viscosity Ale is a strong ale that reads like a Russian Imperial Stout. This is a sipping beer that really should be shared with friends. But it is so good you may be tempted (as I was) to keep it all to yourself. Consider yourself warned.

From the commercial description:
Code named by our brewers-"The Big Black Nasty," this is monstrous dark ale is brewed to no particular style. Thick and sludgy like oil from the crankcase of a wheat threshing combine, Old Viscosity blurs the boundaries of Porter, Stout, Old Ale and Barleywines.

A blended beer that mixes old and new brewing traditions into one finished beer, Old Viscosity starts out with 80% of the packaged beer produced from a stainless steel fermentation.

It then joins another 20% Old Viscosity (from a previous batch) that has been aging in bourbon barrels.

The blend of the two beers yields an incredibly rich and luscious ale that reveals chocolate and cocoa notes melded to silky body of burnt wood, vanilla and ash.
My description for it is "delicious". It packs a whallop at 10.5 ABV, but it is as smoov as a porter's baby's bottom, thanks in significant part to the subtle blend from the "educated" oak-aged component. Hints of chocolate, vanilla, oak, and just a whisper of burnt sugars and very dark grains. The mouthfeel is soft and creamy, the hopping is low, but the whole effect is wonderfully balanced. The commercial description is your typical marketing b.s. -- there is nothing "thick and sludgy" about this beer. Oh, so smooth, and oh, so powerful. Happy birthday to me! Happy, happy, birthday.
If this ain't enough for you, they also sell the "Older Viscosity", which is the straight, barrel-aged product (12.5 ABV), at a correspondingly higher price point. But I was more than happy with this product.
Now, how about a Twins win, eh, Dunce? You are my namesake, after all. You owe me a worthy performance.