Twins 3, Tribe 2 (10)
WP: Matt Capps. Wait, what?
LP: Perez
Blown Save: Matt Capps. Yeah, that seems about right.
Save: Phil Dumatrait. Wait, who?
Twins Record: 23-38, 11.5 games out of first, 2.5 games out of not in the cellar.
Fangraphs loves a winner.
MLB recap.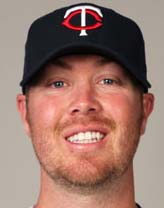 Holy cows. Over the last one game the Twins have won one, in extras to boot. Hot Carl Pavano had a solid outing, allowing seven hits and one earned run over seven innings, striking out three, and walking one. Jose "My Neck Isn't Fat, It's Big Boned" Mijares came on for the eighth and retired all three batters he faced. Then Shortening come on to close out the game. He cruised through the first two batters and then decided to serve up a meatball to Jack Hannahan who promptly deposited the ball into the bleachers. Crisco had trouble with the next batter, Lou Marson, before getting Milton Bradley Michael Brantley to pop up to the glove of Butters in foul territory. This marks the 5th blown save in 13 attempts this season for Capps. At the dish the Twins relied on Ben Revere, who warned Texas that the Twins are coming. Sweet Ben went 3-5, driving in two runs, and scored the only other Twins run of the day off a Morneau double in the 6th. According the Dick, the Key "Hit" in that inning was Cuddy's ground out to the first baseman. Yeah, Dick, that hit really tied the inning together for the pitcher*.
Art, and culture. Cleveland is home to many fine art institutions, including the Cleveland Institute Of Art, The Cleveland Museum of Art, the Museum of Contemporary Art, and some sort of hall of fame. If you happen into Cleveland this summer I would recommend a stop by any of these fine institutions, and after you can refresh your palette here.
*edited for clarity