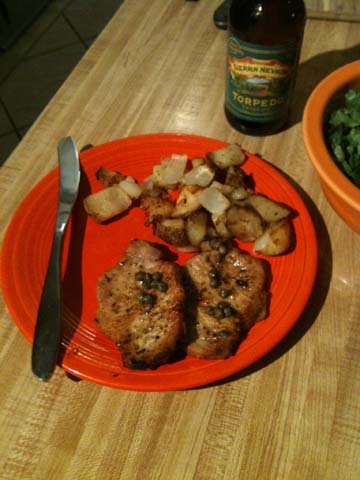 Yeah, pork chops for Dr. Chop. Tonight I tried to tackle pan fired pork medallions with a white wine and lemon sauce. I say that I tried to tackle this dish because this time I fell a little bit short. The recipe calls for pork tenderloin cut into 1/2 inch medallions, pounded slightly flatter with the back of a frying pan, shallow pan fried with a light breading. I accomplished a nice crust on the  meat, but unfortunately I slightly overcooked the meat which means a slightly tougher final product. The sauce is pretty much tolbert proof which is a good thing.  You'll need the following:
1 - 1 1/2 pounds of pork tenderloin, cut into 1/2 inch thick round (place medallions between two pieces of wax paper and pound flat with the back of a frying pan to an even thickness)
1/4 cup olive oil
Flour for dredging, seasoned liberally with salt and pepper
1/2 cup dry white wine
Juice from one lemon
2 tbs drained capers (optional)
Method: Heat oil in a frying pan until a sprinkle of flour sizzles. Place medallions in the oil and fry to a golden brown, turn over to brown the other side. The meat should sizzle well, but the oil shouldn't smoke adjust heat as necessary. Total cooking time shouldn't exceed 5 minutes, no really, trust me. Cook the pork in shifts making sure not to crowd the pan. Once you're finished cooking the meat drain the fat from the pan. Add the wine to the pan and return to medium / medium high heat. Once the wine has nearly evaporated add the lemon juice and capers, and pour pan sauce over the pork and serve with wedges of lemon.
I enjoyed the simplicity of the wine and lemon sauce, but wasn't overwhelmed. I quickly threw together a green salad and roasted some russets with a little onion and garlic to serve on the side.